News and Events
During National Nutrition Month®, Use These Tips To Develop Healthful Eating Habits
Published: March 1, 2023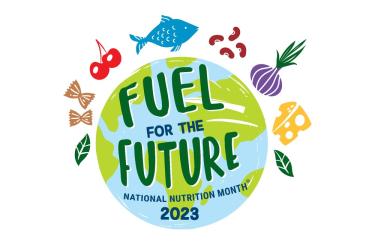 National Nutrition Month® is an annual campaign created 50 years ago by the Academy of Nutrition and Dietetics. During the month of March, everyone is invited to learn about making informed food choices and developing healthful eating and physical activity habits.

This year's theme is "Fuel for the Future." Eating with sustainability in mind is a tasty way to nourish yourself during every phase of life and protect the environment. A registered dietitian nutritionist (RDN) can help you create healthy habits that are sustainable and celebrate your unique needs. Here are some helpful tips to consider:
Eat With the Environment in Mind
See a Registered Dietitian Nutritionist
Ask your doctor for a referral to an RDN who can provide personalized nutrition information to help you meet your health goals. You can find an RDN who specializes in your unique needs by using this tool. 
Learn How Nutrient Needs May Change With Age
Nebraska Methodist College has podcasts covering topics that include nutrition during preconception and pregnancy, and nutrition for infants and toddlers. A podcast focusing on nutrition for kids and teens is expected to be published in March. Explore the podcasts here.
Stay Nourished and Save Money
Eat a Variety of Foods From All Food Groups
Make Tasty Foods and Memorable Experiences at Home
Get Involved at Work
Participating Methodist Health System cafés will have recipes highlighted throughout the month, and handouts with tips on healthy eating and managing food waste will be available. Infused water, which is a great alternative to sugar-sweetened beverages, will be available in participating Methodist cafés throughout the month.