News and Events
Why I Came, Why I Stayed: Jerry Kostal Came for a Job in 1988. What He Found Was a Career
Published: Feb. 27, 2023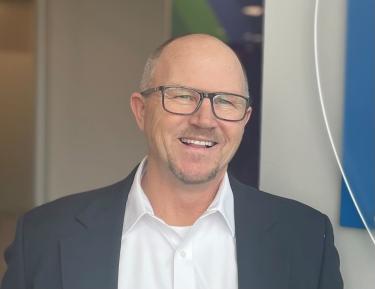 In "Why I Came, Why I Stayed," you'll get to know people who are making a difference every day at Methodist and how they contribute to providing The Meaning of Care.
Jerry Kostal
Director of Supply Chain, Procurement and Logistics
Methodist Health System
Tell us more about yourself and your background with Methodist.
I started with Methodist in 1988 as a casual stock clerk at Shared Service Systems. I was looking for a job, and a friend of mine who worked at Shared said they had some casual positions open. So I applied and got hired. I spent 21 years at Shared in a variety of roles. My first position after my casual stint was distribution supervisor, and my last position was director of administrative services.
In 2009, I was asked to come to Corporate for six months to assist with the Lawson system launch. Fourteen years later, I'm still here. I've held a variety roles, and I'm proud to say that all of my positions have been in Supply Chain Management.
My wife, Kim, and I have been married for 30 years. We have one son, Blake, who is a fourth-year medical student. He graduates in May and will be getting married in July. He was born at Methodist and worked at Methodist as a phlebotomist for a year in between his undergrad and getting into medical school. He said it was the best experience he could have ever had going into medicine. My wife is a clinical coder for Methodist Physicians Clinic, and my mother retired from Methodist as a telemetry tech (Josie Abboud was her boss early in her career at Methodist). And, of course, anyone who knows me knows that I'm a Marine veteran.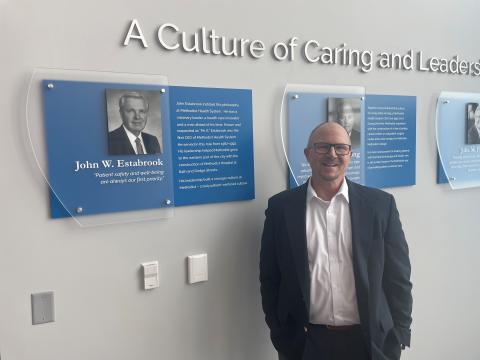 What is it about Methodist that keeps you coming back?
I came looking for a job, but what I found was a career. Why I stayed? One person: John Estabrook.
At the time, he was the CEO, and although I only had the opportunity to work in the health system he ran for about four years before he retired, he made a lasting impression on me. 
He always seemed to be around. I don't think a week went by that he didn't appear somewhere at Shared. Many times he'd come into my office and just sit down and chat. He'd mainly ask questions about Shared, but sometimes it was just a casual conversation. 
At one point after he retired, I ran into him at Corporate and we had some small talk. Then he asked me, "Do you remember all those visits I made to your office?"
I said yes, and he replied, "You know what I was doing, right?" 
I said, "Yes. You were teaching me." 
He said, "No. I was learning from you."
And he continued: "There are no better teachers for us executives than to get out and talk to the people who are doing the work."
He taught me MBWA – management by walking around (known as rounding today). I learned so much from him in such a short period of time, and if you've never read his "Method of Management," which he wrote for the board in May 1992 when he retired, you need to. Almost everything he wrote in that document holds true today. He was an amazing man and the reason I'm here today.
What else should people know about Methodist?
In my 35 years here, I've had the privilege to work with so many really good hardworking and caring people. The thing that makes me get out of bed in the morning is knowing that I get to work alongside people who care about what they do.
My supply chain management team is the perfect example. We have amazing team members who work together to make sure we get the supplies to the people who need them when they need them. And unless you've lived under a rock the past three years, you know how challenging this is.
I've also never seen this system waiver in its mission to take care of people – patients and employees. One of Mr. Estabrook's quotes in his "Method of Management" that I feel still holds true is:  "Always treat your staff with respect, fairness and honesty. This is the basis for an organization with a strong moral and ethical foundation."
Mr. E would be incredibly proud of what the health system has become today, and I'm proud to say Methodist has been a huge part of my life and my family's lives. It's been a great ride!   
Are you interested in being featured in "Why I Came, Why I Stayed?" Do you have a Methodist coworker whose "why" would be perfect for this feature? Visit our Contact page and select "Employee Connections Submission or Story Idea."