News and Events
The Core of What We Do: Beth Belmont Sees Firsthand How Primary Care Benefits Patients
Published: Feb. 23, 2023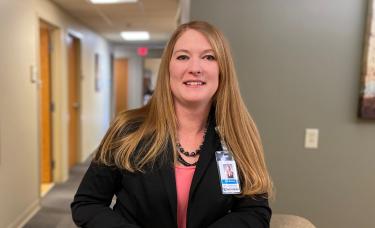 In "The Core of What We Do," you'll learn more about Methodist's core service lines – primary care, oncology, cardiology, women's health and orthopedics/surgical services – and the people whose dedication makes them so impactful for our communities.
Beth Belmont, APRN
Senior Director, Fremont Clinics
Methodist Physicians Clinic
 

Why is the primary care service line so important? How does this service line contribute to The Meaning of Care?
Primary care providers offer patients comprehensive health care throughout their lives – from birth to end-of-life care. This includes annual wellness exams; diagnosis and treatment of diseases and illnesses; disease prevention; injury care; general health and wellness education; and coordination with other elements of the health care system, such as subspecialty care, hospitals, home health agencies and nursing homes. Primary care is essential to providing medical care to our communities, providing better access to care and improving health outcomes. It's generally the first contact for patients and the entry point to our health system. Our primary care providers contribute to The Meaning of Care by providing team-based, patient-centered, comprehensive care throughout all stages of life.
 
What should people know about primary care?
Everyone should have a primary care provider. Primary care providers care for patients from birth through the end of life and are your health care partners to assist you in staying safe and healthy by knowing and understanding your health history, wellness goals and concerns. Primary care should be your first resource for medical care.
 
Tell us more about your role at Methodist.
I'm the senior director for Methodist Physicians Clinic locations in Fremont. I oversee operations for the following:
 
Fremont Family Care and Internal Medicine – family medicine and internal medicine services in Fremont and North Bend

Prairie Fields – family medicine services

Fremont Cardiology and Pulmonology

Methodist Fremont Health Center for Wound Healing

Fremont Surgical Group – general surgery services

Methodist Physicians Clinic Women's Center – obstetrical and gynecology services
I also am a family practice nurse practitioner and see patients at our Fremont Family Care and Internal Medicine location on a part-time basis.
What do you enjoy most about your role?
I believe Methodist is a great place to work, and I've enjoyed being a part of Methodist Physicians Clinic. I enjoy connecting with people and solving day-to-day operational problems as well as evaluating and planning for future growth opportunities. I find supporting the employees who report to me and striving for them to have the best work experience possible to be the most fulfilling part of my job.
Are there any memorable moments from your work that stick out?
The most memorable recent moment is when I was asked to partner with the Three Rivers Public Health Department to set up and run the community COVID-19 vaccination clinic for Dodge County. This task took a lot of planning, coordination and energy. The first clinic that we opened was for patients 75 and older. We vaccinated 300 people at the first clinic, and that was probably one of the most rewarding days of my career. Most of the patients who came to the vaccine clinic had not been out of their homes since the pandemic began, and they were able to see their friends in a socially distanced environment. That day was the first time since the pandemic began that we started to see hope for an end, and the excitement and appreciation of patients was heartwarming.
Why did you come to Methodist, why have you stayed?
I came to Methodist when Fremont Health joined the health system in 2018. I had been an employee with Fremont Health for the majority of my nursing career and had served in many different roles. I've stayed with Methodist because I really enjoy the culture. I believe the Fremont Health and Methodist cultures were very similar, and this has been a great partnership. I have enjoyed being part of Methodist Physicians Clinic and appreciate our collaboration among clinics from Nebraska to Iowa. I enjoy the culture and our ultimate goal to support our physicians and employees.
What does a day in the life look like for you?
Typically, I start my day at the Fremont Family Care and Internal Medicine location for the morning huddle. From there, my day consists of answering emails, problem solving and traveling to the other locations to ensure that things are running smoothly. I'm also frequently tackling problems and collaborating with my other clinic leaders. I practice as a nurse practitioner in family practice on a limited basis, as well.
What does The Meaning of Care mean to you?
To me, The Meaning of Care is providing the best patient care with the best patient experience. We should come to work every day remembering why we went into health care – that we are here to help people, and our patients should feel our empathy and compassion for them through the way we provide care.
What's the best thing about your role at Methodist?
I enjoy problem solving, creating new workflows and connecting with physicians and employees to identify opportunities to improve the way we provide care to our patients and our community.
What do you enjoy outside of your time at Methodist?
Outside of work, I love spending time with my family and friends. I enjoy working on projects and crafts with my children and attending their sporting events.