News and Events
NMC Ultrasound Program Looking for Pregnant Volunteers
Published: Feb. 21, 2023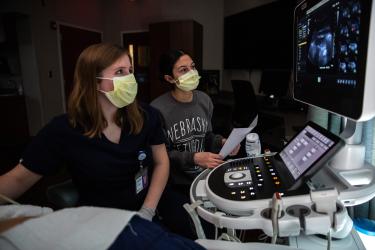 The sonography program at Nebraska Methodist College (NMC) is looking for pregnant ultrasound volunteers who are willing to have OB ultrasounds performed for student practice only in the coming weeks.
The ultrasounds are performed by first-year NMC students under the supervision of a registered sonographer. Each session is one hour in length. With your help, students can practice their ultrasound skills. These ultrasound exams are for practice purposes only. No results will be given at these sessions.
All practice ultrasounds will be performed at NMC. The sonography lab is located down the hill from main campus (501 N. 87th St.). Please see the attached map of the location. A student will meet you at the south entrance of the building (marked by the star on the map; door closest to Dodge Street). Consent waivers, which are required from volunteers before students can practice, will be emailed to you once you sign up to be an OB volunteer.
A surgical mask must be worn in the sonography lab at all times. We can provide a mask upon your arrival. For more information and details regarding safety precautions, please call (402) 354-7135.