News and Events
Daily Visual Management Boards Can Help Teams Better Communicate and Achieve Goals
Published: Feb. 17, 2023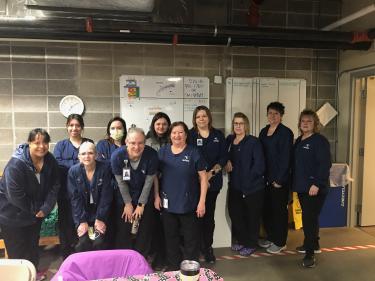 One way the Methodist Operational Innovation team can support teams to achieve their goals is by providing coaching on the implementation of daily huddles with a daily visual management board.
Daily visual management (DVM) is a simple tool that helps support team discussion on continuous improvement opportunities. DVM white boards are placed in huddle locations and used to enhance team communication. Through the capture of ideas, metrics and actions on DVM boards, leaders can provide coaching on continuous improvement opportunities and support teams in becoming independent problems solvers.  
Huddles and DVM boards provide an environment for a daily team check-in to identify any needs related to patient safety and care for the day. This is a time to identify any existing problems that can be quickly solved or assigned as a continuous improvement project. 
If your team could use assistance in setting up or refining a DVM board, please reach out to the Operational Innovation team.
For more information about Operational Innovation, its available services or educational offerings, visit the OI intranet site (Intranet Home > Departments > Operational Innovation).