News and Events
Support Methodist and Leap-For-A-Cure at the Lancers Hockey Game on March 31
Published: Feb. 13, 2023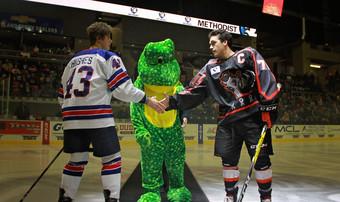 Methodist and Leap-For-A-Cure are teaming up with the Omaha Lancers hockey team to raise awareness and funds to support brain cancer and traumatic brain injury patients in the Omaha community.
Event Details
Lancers vs. Des Moines Buccaneers
Friday, March 31 at 7:05 p.m.
Liberty First Credit Union Arena, 7300 Q St., Ralston
A variety of fundraising activities will occur at the game, including jersey auctions, exclusive raffles and opportunities to win or purchase Leap-For-A-Cure branded items.
Tickets
Because Methodist is a presenting sponsor, a special ticket promotion is available for Methodist employees and their friends and families. Below is a link for specially discounted tickets to the game.
Omaha Lancers vs. Des Moines Buccaneers, March 31
No ticket limits apply, but tickets are subject to availability. Advance purchase is recommended.
More About Leap-For-A-Cure
Leap-For-A-Cure's mission is to raise awareness of brain cancer, with the goal of providing education and diagnostic treatment options for brain cancer and brain trauma patients and families. The organization was founded in July 2008 by the family of Heather Roberts, who succumbed to her battle with glioblastoma brain cancer in November 2016 at the age of 37.
Her memory lives on in the number of ways Leap-For-A-Cure has touched and healed countless lives. Donations have helped fund multiple projects at Methodist.