Awards and Achievements
Bobbie Petersen and Tamra Schaecher Honored With The DAISY Award
Published: Jan. 17, 2023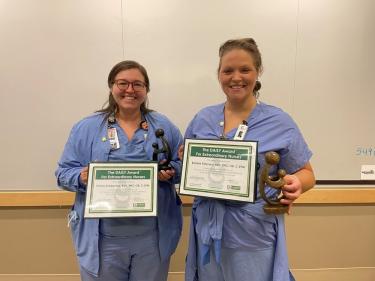 Labor and delivery nurses Bobbie Petersen, BSN, RNC-OB, C-EFM, and Tamra Schaecher, BSN, RNC-OB, C-EFM, were recently honored with The DAISY Award for working quickly and efficiently during an emotionally challenging yet successful labor and delivery experience at Methodist Women's Hospital.
"Some people might say, 'Well, that's their job. That's what they're supposed to do.' And, exactly right," said Methodist OB/GYN William Weidner, MD, who helped deliver the baby. "They did it exactly right. Without a flaw."
Because of their adeptness while remaining calm under pressure, Dr. Weidner nominated the nurses for the award, which recognizes the extraordinary efforts of nurses nationwide.
According to Schaecher and Petersen, the successful outcome was the result of frequent training and teamwork.
"The confidence and diligence in the room was what led to this outcome," Petersen said.
"It took everybody we had that night," Schaecher said. "It took NICU staff, anesthesia staff, pharmacy staff and every nurse working. The people we had working were absolutely meant to be there that night."