Awards and Achievements
Methodist Hospital Short Stay Nurse Joe Wolff Receives The DAISY Award
Published: Dec. 30, 2022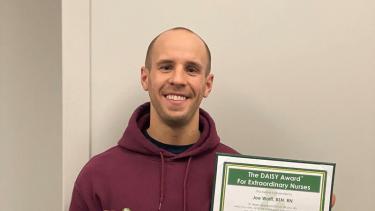 Following surgery in September to repair a blockage in her urethra, Dolores Chalupa* spent three days at Methodist Hospital. She'd never stayed at the hospital and wasn't sure what to expect.
During the first night, her night-shift nurse – Joe Wolff, BSN, RN – asked her to rate the pain she was experiencing. Dolores told him she was "OK" because the pain was tolerable.
"With no prior experience, I didn't want to be 'that patient,'" she said.
She said she came from a family where you don't complain about anything, but Wolff wanted to assure her that it was his job to make sure she received the care she needed.
"He said, 'This is not the time to be stoic. If you're not comfortable, let's do what we need to do to get you comfortable.'"
Dolores said those words helped her feel like she could actually tell Wolff how she was feeling.
"He came in and saw my trepidation and insecurity about being vocal about any needs. And he put me at ease to go ahead and ask for them. And I never felt like I was asking too much, being bothersome or interrupting."
Wolff has worked at Methodist Hospital for nearly eight years. He spent five years as a phlebotomist before transitioning into a nursing role in March 2020, then moving to the Short Stay Unit in June 2021.
He finds it very rewarding when he can help a patient manage their pain.
"I not only see them progress, but I can be a part of that process in helping someone recover from whatever ailment they're dealing with."
Read more in the Methodist Newsroom
*For privacy purposes, the patient requested that their real name be omitted from this article.