Awards and Achievements
Sheri Kimmey Honored With March of Dimes Heroes in Action Award; Heather Hansen Is a Finalist
Published: Nov. 17, 2022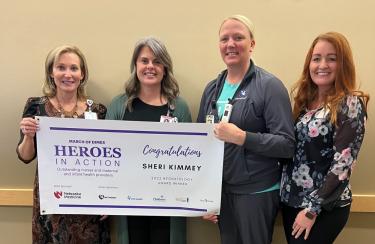 Methodist Health System is a proud sponsor of the March of Dimes (MOD) Heroes in Action Awards.
Formerly known as Nurse of the Year, the program was expanded in 2021 to include health care providers outside of the field of nursing.
In lieu of an in-person celebratory banquet, Heroes in Action winners were recognized in surprise celebrations with their peers, leadership and families. Two Methodist staff members were selected as finalists across 14 categories, and one was honored with a Heroes in Action Award.
Methodist Winner
Neonatology
Sheri Kimmey
NICU Development Specialist 
Methodist Women's Hospital
Methodist Finalist
Rising Star
Heather Hansen
Nurse Coordinator GYN OB
Methodist Women's Hospital
More Information
March of Dimes pays tribute to health care professionals by recognizing extraordinary contributions throughout the community. Health care workers are nominated by peers, managers, supervisors or the families they have impacted. Each application is blinded, carefully reviewed and scored by a committee of nurse leaders from the health care community in Nebraska and western Iowa.
To learn more about the March of Dimes Heroes in Action Awards, go to heroesinaction.marchofdimes.org.