Awards and Achievements
Liz Blazek Is Methodist Hospital's Employee of the Month for November 2022
Published: Nov. 1, 2022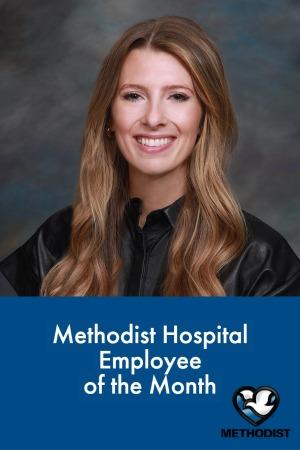 Liz Blazek is a nurse practitioner in the Palliative Care department. She embodies our core values of integrity, excellence, learning, compassion, teamwork and respect in everything she does. Liz has been a Methodist employee for over six years.
"Liz goes above and beyond to represent The Meaning of Care to her patients, their families, her colleagues and others each and every day. She delivers compassionate care to every patient and family she encounters, even in the most difficult situations. Liz has shown a commitment to Methodist's mission and core values by being an advocate for the patient and family. She not only addresses the patient's physical needs but also is respectful of their cultural, spiritual and psychosocial needs. Liz has an innate ability to establish rapport with others. Her colleagues trust her expertise and seek her advice. She always takes the time to listen to her team members' concerns and offers sound advice. She consistently provides exceptional care."
Congratulations to Liz on being selected as Methodist Hospital's Employee of the Month!
 
---
To nominate a fellow Methodist Hospital employee for the Employee of the Month Award, submit a completed application form to Angie Anderson in Administration. Each nomination is kept on file for review for six months. The Employee of the Month nomination form can be found by searching under the "Forms" tab on mhsintranet, or click here.