Awards and Achievements
Israel Rodriguez Is Methodist Women's Hospital's Employee of the Quarter
Published: Oct. 27, 2022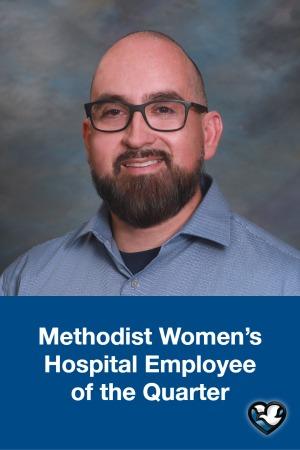 Phlebotomist Israel Rodriguez is the Methodist Women's Hospital Employee of the Quarter for the third quarter of 2022.
He was nominated by several colleagues. Among the nominations were these comments:
"Israel knows how to make our patients feel at ease before getting their blood drawn. He comes to our office with a smile and always a friendly hello. He is compassionate and caring, and he truly goes out of his way to make you feel better as a patient and a person. He deserves this award because he clearly demonstrates what patient focus and compassion are, not to mention that he does an amazing job at his work and drawing blood. He is patient and kind!"
"Israel is our patients' favorite phlebotomist. They rave about him constantly and get super excited when they see that he is here. I have never seen him miss a vein, and he is so quick about it. The patients love how personable he is and how smoothly he is able to do his job. He loves what he does, and it definitely shows. Israel is a fantastic asset to our team, and we couldn't do it without him."
"He builds relationships with the patients we see daily and loves to have conversations with the patients. He is great at his job and is never afraid to ask questions. He also will interpret with the patients, and they love that and feel more comfortable."
Congratulations, Israel, on being selected as the Methodist Women's Hospital Employee of the Quarter!
---
The Methodist Women's Hospital Employee of the Quarter award program began in the first quarter of 2013. Award nominations may be submitted by physicians, supervisors, coworkers and staff. Judging is based on how candidates embody the mission and core values of Methodist Women's Hospital: patient focus, integrity, excellence, learning, compassion, teamwork and respect.
Employee of the Quarter award winners are automatically considered for the Caring Kind Employee of the Year award, as are Methodist Hospital's Employees of the Month.
To nominate a fellow employee for the Employee of the Quarter award, submit a completed application form to Administration. Each nomination is kept on file for review for four quarters. The "Employee of the Quarter - MWH" application form can be accessed here.