News and Events
Employee Flu Shot Distribution Is Underway. Here's What You Need To Know
Published: Sept. 27, 2022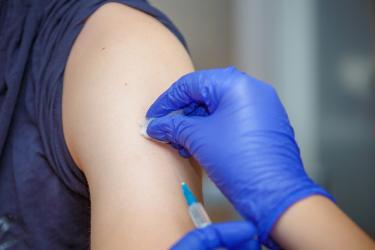 Flu season is right around the corner, which means flu shot distribution is, too. Methodist Health System will once again be offering flu shots for employees via the Closed Point of Dispensing (CPOD) process.
By dispensing flu shots in a CPOD format, Methodist will be able to vaccinate a large number of employees in an efficient time frame. 
Note: There are no plans to provide COVID-19 vaccinations or boosters at the CPOD locations.
CPOD Flu Shot Information
Methodist Jennie Edmundson Hospital
Sept. 26-27
6 a.m.-6 p.m.
Old HIM office (lower level by cafeteria)
825 Building
Sept. 28
6 a.m.-1 p.m.
825 Café 
Methodist Fremont Health
Sept. 29-30
5:30 a.m.-7:30 p.m.
Health Park Plaza, Third floor 3
Methodist Hospital
Oct. 3, 4 and 10 
6 a.m.-6 p.m.
Centennial Room
Nebraska Methodist College 
Oct. 5 (for staff members)
7:30 a.m.-2:30 p.m.
501 Building second floor
Oct. 5 (for students)
7:30 a.m.-4:30 p.m.
501 Building second floor
Methodist Women's Hospital
Oct. 6-7
6 a.m.-6 p.m.
Cafeteria
What You Should Know
You must have your employee badge for registration purposes.
Hospital volunteers are welcome but must bring their NMHS-issued badge.
Short-sleeve shirts/blouses are recommended.
You can get your flu shot at any of the above locations.
High-dose flu vaccines are not offered at these clinics, but they are available at many of the Methodist Physicians Clinic locations or other community sources.
If you have already received the flu shot, submit documentation (verification form or receipt) to Employee Health to the following email addresses:

MJE.EmployeeHealth@nmhs.org for Jennie Edmundson employees
MFH.EmployeeHealth@nmhs.org for Methodist Fremont Health employees
MHS.EmployeeHealth@nmhs.org for all other employees

Declination forms will be provided. You may also access the declination form on the intranet; submit the completed form to Employee Health using the email addresses above. 
Minors attending the CPOD locations will need a parent or guardian on the phone or on location to grant consent.
A free lunch ticket will be provided for employees. Validation stickers for badges will not be provided this year.
The flu shot will be recorded in your EMR and available for viewing via the Patient Portal.
At this time, there are no plans to provide COVID-19 vaccinations or boosters at the CPOD locations.
All MHS employees and volunteers must receive the flu shot at an MHS location, submit documentation of receiving a flu shot from a different location or submit a completed declination form by Nov. 20, 2022.
To download a printable flyer about Methodist employee flu shot clinics, click here.