Leadership Updates
Update on the Employee Engagement Survey: Early Findings, and What Comes Next
Published: Sept. 15, 2022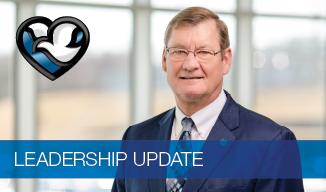 A message from Steve Goeser, president and CEO of Methodist Health System
We asked, and you responded.
You may recall the invitation to participate in our recent employee engagement survey. You took part, and in tremendous numbers. Nearly 4,500 employees completed the survey, and I want to thank all of you for your participation.
Since the close of the survey, our employee engagement vendor, Press Ganey, has been taking a deep dive into the results. In recent weeks, Methodist Health System leadership has reviewed the findings. We truly enjoy this part of the process, as it provides insight into our organization on an entirely different level – outside of the day-to-day of what we do.
It came as no surprise to me, and I think you will feel the same, that our people feel very strongly about our culture and that Methodist is a pretty great place to be. The survey revealed that 89% of you agree that the organization provides high-quality care and service. Further, 91% of our employees like what they do. But a statistic I'm especially pleased to see and share is that 88% would recommend the organization to family and friends who need care. This mark exceeds the national average, according to Press Ganey.
One other high-scoring area I want to highlight is safety. The survey results showed that 89% of you believe patient safety is a priority and that we strive to deliver safe, error-free care to our patients each and every day.
While we have much to celebrate, the senior leadership team and I acknowledge that we have work to do. You provided us with considerable feedback, particularly in the areas of compensation/benefits and communication. We know this is a very dynamic staffing and compensation market. Inflation has impacted you, your families and this organization and made many aspects of life challenging.
Here's what I can tell you: We value you as employees, and we want your total compensation package to reflect that. Methodist strives to pay the market rate. Market analysis comparisons are ongoing, and they are one factor that guides our decisions. This is a top priority for leadership. We are hard at work in this area and we look forward to sharing more information on compensation in the coming weeks.
I think we can all agree that communication must be at the forefront of what we do every day. Addressing the issues is a priority for leadership and cannot be enhanced overnight. You may recall that the Marketing Department recently conducted a survey specifically focused on internal communications. Those results have been finalized, and work is underway to develop a strategic plan to improve our internal communications across the organization. More information will be coming soon on this initiative.
As leaders continue to review the data, that information will cascade down to managers and departments. While we have health system objectives, there will be specific goals at each affiliate location as well as within departments and teams.
This work isn't just on the shoulders of leadership. It's up to all of us to address the areas of concern in this survey. I ask each of you to be accountable and be part of this process. Help us do better. Help us be better. In the end, taking such actions will result in us growing as an organization. And that's something we can all be proud of.