Awards and Achievements
Shelley Hultman Is Methodist Hospital's Employee of the Month for September 2022
Published: Aug. 31, 2022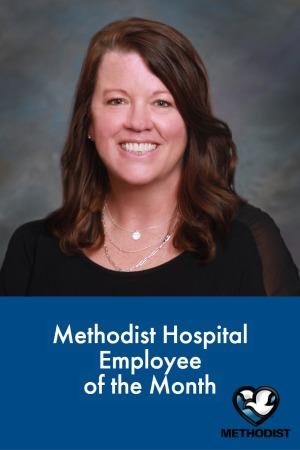 Shelley Hultman is a staff development nurse in the Emergency Department. She embodies our core values of integrity, excellence, learning, compassion, teamwork and respect in everything she does. Shelley has been a Methodist employee for over 23 years.
"Shelley is the definition of care, "the provision of what is necessary for the health, welfare, maintenance and protection of someone or something", to her patients, her colleagues and our organization. She is always willing to jump in to make sure that this care is received. Shelley is the best patient advocate. She is honest and transparent. She has strong morals and strives for excellence in her practice. She values others and, in return, they value her. She goes above and beyond for others and for our organization. She is a hard worker who juggles being a mom, student, and working three positions at Methodist with style and grace."
Congratulations to Shelley on being selected as Methodist Hospital's Employee of the Month!
 
---
To nominate a fellow Methodist Hospital employee for the Employee of the Month Award, submit a completed application form to Angie Anderson in Administration. Each nomination is kept on file for review for six months. The Employee of the Month nomination form can be found by searching under the "Forms" tab on mhsintranet, or click here.