News and Events
Find Us at Afro Fest Omaha 2022 on Sept. 3 at Stinson Park
Published: Aug. 31, 2022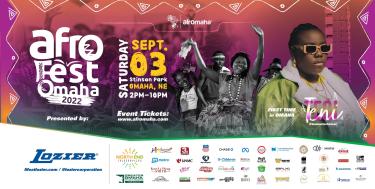 Methodist is proud to sponsor the Rising Star Stage at the second annual Afro Fest Omaha on Saturday, Sept. 3, from 2 p.m. to 10 p.m. at Stinson Park in the Aksarben Village.
Afro Fest is hosted by Afromaha and continues to elevate the importance of celebrating African history and culture in our city. Afromaha is led by Africans living in Nebraska with a vision to connect people, foster creativity and inspire people to explore and embrace African heritage and culture. Afro Fest includes an exploration of African music, arts, crafts, clothing, accessories and food while promoting opportunities for attendees to learn about opportunities to make connections with area businesses and employers.
Representatives from Methodist Human Resources and Nebraska Methodist College will be on hand at the festival to promote opportunities for employment and education at Methodist Health System. Students from Nebraska Methodist College will also host the First Aid booth.
Tickets are available at the gate or online in advance at https://www.afromaha.com/.