HR and Benefits
Changes Coming to Employee Injury Reporting Process and Other Employee Health Updates
Published: Aug. 31, 2022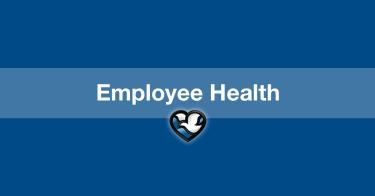 Employee Health staffing changes have afforded the health system the opportunity to evaluate our employee injury reporting process, and we're excited to share that we'll be moving to a more robust system that will provide employees 24/7 access.
Sedgwick has been our worker's compensation claims provider for many years and provides a confidential call line staffed by registered nurses for all injuries experienced by employees while performing their job duties.
The change in employee injury reporting goes into effect on Wednesday, Sept. 7.
Here's how the process will work:
When an employee suffers an injury, they'll still report to their supervisor.

Employees will then be directed to call the clinical nurse line at (855) 537-4468, rather than completing the online injury form. They'll report their injury and be asked to confirm basic information. 

If the nurse believes that the employee should seek medical treatment, the most appropriate provider will be recommended.

A copy of the nurse report will be immediately emailed to the employee, Employee Health and a Sedgwick examiner. 

The nurse will speak with the employee's supervisor about the recommendation of care that was given to the employee after the employee evaluation if available. 
Needlesticks (sharps injuries) will still require a visit to Employee Health during office hours. After-hours employees should contact the administrative coordinator on duty.
COVID-19 symptoms and test results should still be reported to Employee Health via phone call or the Employee Health COVID-19 screening form. Contact Employee Health for any COVID-19 related questions.
Here is a flyer regarding Employee Injury Reporting.  
New Employee Health Staff
We welcome our new Employee Health members who are ready to serve employees across the health system.
These staff changes have not resulted in any changes regarding Employee Health being the point of contact for all employees in the health system.
New staff located at our Methodist Hospital location, who will be available from 7 a.m. to 3:30 p.m., are as follows:
Leslie Belew, BSN, RN, will be with us through the end of the year. She has a variety of experience in clinics, home health, emergency medicine and critical care. 

Melanie Crnkovich, BSN, RN, has worked in clinics, home health and surgery centers.

Jean Vipond, RN, will be joining the team in October. She's currently an administrative coordinator at Methodist Hospital.