Leadership Updates
A Message From Steve Goeser: Caring Campaign 2023 Starts Sept. 1
Published: Aug. 29, 2022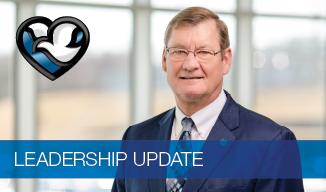 You give each and every day. You give your expertise and energy to treat and advocate for our patients. You give your insight and understanding to support your coworkers. Together, you give our communities hope and reassurance even during the most uncertain times.
Every year, I ask a team that gives so much to give a little more. And you always do. Caring Campaign is our chance to join together, strengthen our sense of community and celebrate the impact we can have on one, two or all three foundations within our health system.
By supporting Fremont Health Foundation, Jennie Edmundson Foundation and Methodist Hospital Foundation, you come to the aid of patients in need, make our communities healthier places to live and bring peace of mind to coworkers facing financial emergencies.
At the same time, I know your costs are rising. That makes a gift of any size even more meaningful. One dollar? Five dollars? It all makes a difference and sends a powerful message: We not only work at Methodist, we support it. 
I look forward to donating during this year's Caring Campaign, and I hope you'll join me. You'll see ways to give to each foundation and their greatest needs on one pledge form. As always, you choose exactly where your gift goes. 
It's been an incredibly challenging couple of years. We've overcome obstacles and dug deep to keep moving forward. Through it all, you exemplified The Meaning of Care. You are givers in every sense of the word. And to you I give my sincerest thanks.
Learn more at: