Awards and Achievements
Jennie Edmundson Nurse Eric Sandbothe Honored With The DAISY Award
Published: Aug. 16, 2022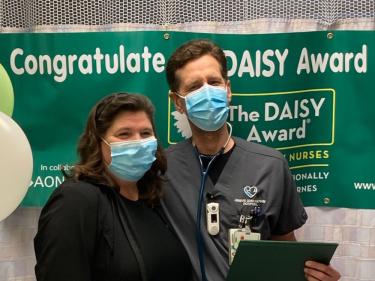 Eric Sandbothe, BSN, RN, has seen a lot in 25 years of nursing at Methodist Jennie Edmundson Hospital. But he got the surprise of his career last month while working a shift in the Critical Care Unit.
After being coaxed away from his patients and into another room, Sandbothe found himself surrounded by coworkers; his wife, Kris (pictured here); and family members of Lois Brix, a patient he had cared for months before. They were there to surprise him with The DAISY Award, which honors nurses for their extraordinary skill and compassion.
"When he got there, somebody said they could hear him saying, 'I still have things I need to do. I need to do this,'" said Deb Brix, Lois' daughter-in-law. "He was still thinking about his patients, which didn't surprise us a bit. That's totally Eric."
Lois' family nominated Sandbothe for The DAISY Award after he cared for her earlier this year – first after a heart attack, then during and after a stroke.
"He's not just a great nurse," Deb said. "He's a great person, and so compassionate. In nursing school, you learn how to take care of people, but you can't teach kindness. You either have that instilled in you or you don't."
In a DAISY nomination from the family, Deb's daughter, Minden Huntrods, detailed the exceptional care that Sandbothe provided the entire family.
"There is nothing more comforting than knowing you're leaving your family member with someone who is not only clinically exceptional but also of the highest integrity. … Without question, Eric would be my first choice to take care of anyone in my family or myself in a future time of need," wrote Minden, who recently began a pharmacy residency at Indiana University Health.
For his part, Sandbothe was surprised to receive the award and grateful for the opportunity to work at Jennie Edmundson.
"I have some of the greatest coworkers in the world. They're probably more deserving of this award than me," he said before poking a little fun at them.
"I'd let them take care of me any day of the week. And someday I might have to, because I'm quite a bit older than many of them."