Awards and Achievements
Eduardo Rojo Is Methodist Hospital's Employee of the Month for August 2022
Published: Aug. 1, 2022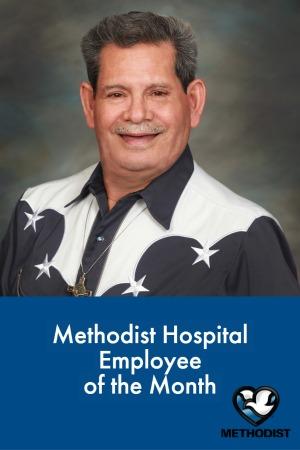 Eduardo Rojo is an MRI cleaning technician in the Environmental Services Department. He embodies our core values of integrity, excellence, learning, compassion, teamwork and respect in everything he does. Eduardo has been a Methodist employee for over 18 years.
"Eduardo shows compassion to his fellow employees. He is always very friendly and asks how my day is and how my family is doing. He is very respectful to all he speaks with by addressing them as ma'am or sir. Eduardo is definitely a resource for his peers. He knows where everything is and how to take care of others. Eduardo does such an amazing job! He really goes above and beyond to make Methodist a beautiful hospital and to make everyone feel welcome."
Congratulations to Eduardo on being selected as Methodist Hospital's Employee of the Month!
 
---
To nominate a fellow Methodist Hospital employee for the Employee of the Month Award, submit a completed application form to Angie Anderson in Administration. Each nomination is kept on file for review for six months. The Employee of the Month nomination form can be found by searching under the "Forms" tab on mhsintranet, or click here.