News and Events
Register Now for These Upcoming Continuing Education Opportunities
Published: July 29, 2022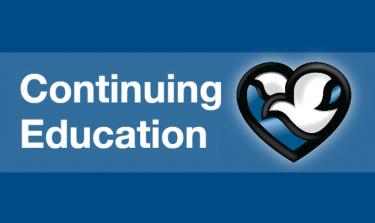 One of the great benefits of being a Methodist employee is the opportunity to take advantage of Nebraska Methodist College Professional Development (NMC PD) continuing education classes. Most of these courses are offered at no cost to you!
At NMC PD, we're teaching The Meaning of Care to assist you in improving your skill level, increasing your job satisfaction and facilitating your professional and personal growth. We offer a wide range of topics for every employee at every job level.
Upcoming Events
Mark your calendar or register today for these upcoming events.
Teach the Trainer: Closing the Feedback Loop
Saturday, Aug. 13
8 a.m. to noon
Webinar
Register here.

At times, there appears to be a disconnect between students and their clinical instructors. Through the identification of effective feedback strategies, the missing piece in the feedback loop can be put in place to help close the loop and thus help to improve student performance. For this event, we welcome clinical and/or classroom instructors in the following health care disciplines: nursing, radiologic technologist, respiratory care practitioner, sonographer, surgical technologist, physical therapist, physical therapist assistant, occupational therapist and occupational therapist assistant. 
2022 Geriatrics Symposium: Care Across the Continuum
Friday, Aug. 19
8:30 a.m. to 3:15 p.m.
Bellevue University, John B. Muller Administrative Services Building (MASB), 812 Bruin Blvd., Bellevue, NE 68005
Also available via webinar
Register here.
This program will provide current information and evidence-based practice guidelines that will enhance clinical and professional practice related to the care of the older adult. Topics will include enhancing knowledge of falls and prevention measures; partnerships to reduce the use of harmful medications; diversity, equity and inclusion; and what matters most to the older adult. This activity is being jointly provided by Nebraska Methodist College Professional Development, Sanford USD Medical Center, Hillcrest Health Services and Immanuel Communities. The event is being sponsored by Bellevue University. We welcome nurses, physicians, social workers, physical therapists, occupational therapists, medical assistants and individuals working with older adults. 
What Healthcare Workers Need To Know About the Monkeypox Outbreak
Wednesday, Sept. 14
Noon to 1 p.m
Webinar
Register here.
After more than two years of the COVID-19 pandemic, it's easy to feel nervous when another virus outbreak occurs. Monkeypox is on the rise in the United States, and some may be wondering if another health care threat is in the works. In this program, you'll learn about the monkeypox outbreak, including who's at risk, transmission, how to spot signs of monkeypox, when health care workers might face risk and treatment options for people who contract the virus. We welcome all nurses, respiratory therapists, occupational therapists, speech therapists, physical therapists and anyone else interested in learning more about the monkeypox virus.
Primary Infection Prevention
Sept. 28 and 29
Times vary

Track 1: Prevention for All Health Care Settings, Acute Care Hospital, Ambulatory Care & Surgical Centers
Register here.

Track 2: Prevention for All Health Care Settings and Long-Term Care and Assisted Living Facilities
Register here.
The Nebraska Infection Control Network (NICN) Primary Infection Prevention course offers a combination of lectures, discussions and educational activities pertaining to the prevention and control of infections in a variety of health care settings. The first day will focus on infection and prevention for all health care settings, and all attendees will be together for this day. Day two will focus on acute care hospital, ambulatory care and surgical centers, or long-term care and assisted-living facilities. Participants will choose a track when registering. These activities are being jointly provided by Nebraska Methodist College Professional Development and the NICN. We welcome nurses and any other health care providers interested in learning more about the core components of infection prevention and control in health care settings.
Save the Date
Registration will open soon for these events:
Leadership Conference, Nov. 3
2022 Lung Cancer Symposium, Nov. 11, 7:45 a.m. to 12:30 p.m.
2023 Cardiovascular Symposium, slated for February
2023 Dan Lydiatt Symposium, slated for April 
2023 Pulmonary Symposium, slated for April 
2023 Research Day, slated for May
To see all of our current events (live, online and podcasts), click here.
To be the first to learn of our upcoming events, subscribe to our emails or update your subscription here!
For more information, please contact @email.