Awards and Achievements
Duane Robinson Honored With Innovation Award for Idea That Could Save $14,000 Annually
Published: July 29, 2022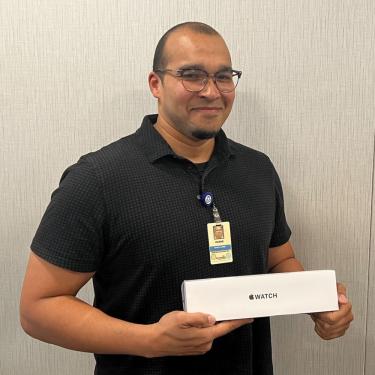 The Innovation Award was introduced in April to celebrate employee-generated ideas to reduce avoidable spending, increase efficiencies, boost revenue and enhance the quality of care we provide. Ideas may be submitted by full- and part-time employees below the service leader/manager level. High-impact ideas are included in a monthly drawing for a $25 prize and quarterly smart watch drawing.
The first quarterly winner of a smartwatch was randomly chosen from qualifying submissions received from April through June. The winner is Duane Robinson, lead inventory coordinator, for his idea regarding changing to a different nursing pad for Methodist Women's Hospital and Methodist Jennie Edmundson Hospital. The idea is expected to yield a savings of over $14,000 annually.
The Innovation Award combines the previous Sensible Savings Award, managed by the Value Analysis Team, and Operational Innovation's Golden Idea Award. Submissions for the Innovation Award must be made through the NMHS Service Portal on the intranet home page (NMHS Service Portal > Request Something > Innovation Award Submission). You can also follow the link provided on the Operational Innovation intranet page. If you have questions regarding the Innovation Award, email @email.