Awards and Achievements
Lynsey Schmad, Andrew Skarka Honored for Service to Nebraska Methodist College Students
Published: July 28, 2022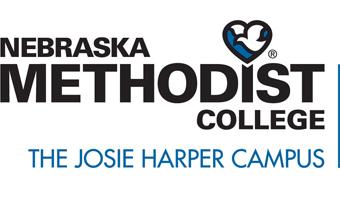 Nebraska Methodist College (NMC) is proud to announce that a faculty member and staff member have been honored for their outstanding service to students and the impact they have made at the college.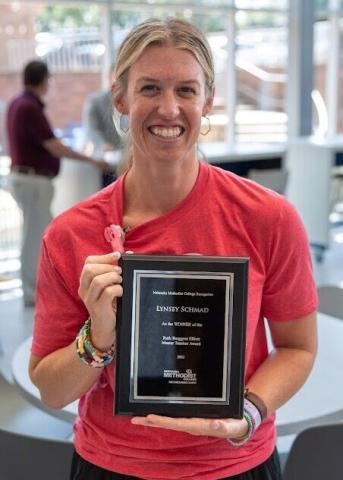 Ruth Berggren Elliott Master Teacher Award
2022 recipient: Lynsey Schmad, assistant professor of nursing
Award information: The Ruth Berggren Elliott Master Teacher Award is an annual honor given to a faculty member who demonstrates excellence in teaching as determined by students. Students are asked to reflect on all their learning experiences with the various faculty at NMC (whether it be in an undergraduate or graduate course, or in an in-person or online course format) and write a nomination letter to describe how they've been impacted by a "Master Teacher."
Student nomination: "Lynsey was effective in her communication and expectations for clinical. She provided constant communication and was prompt in her responses. She was clear on her expectations of what she wanted us to do during our clinical experience. She created a positive learning environment by being approachable for questions and by encouraging us to step out of our comfort zone. I feel that Lynsey helped me connect the dots with nursing, and I feel that I truly became a better, more holistic nurse this quarter in clinical because of her teaching. Her encouragement and real-life experiences/advice is unmatched, in my opinion. She has had a great impact on my education and my future as a nurse. I have heard from countless other students that they have loved having her in the classroom and clinical this year. One of my fellow students said it best when he told me that if the school could just clone Lynsey, then it would be set forever. It is easy to treat every student the same and just go through the motions. She never does that, though. I know she cares about each student's personal success, and she is not afraid to show or tell you that. It is my hope that Lynsey be awarded the Ruth Berggren Elliott Master Teacher Award."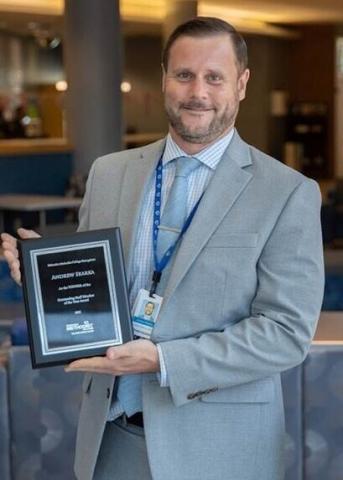 Staff of the Year Award
2022 recipient: Andrew Skarka, director of career and financial wellness
Award information: The Staff of the Year Award is an annual honor given to an NMC staff member to recognize outstanding contributions in a co-curricular, support or administrative function that helps to engage the student experience and is determined by the students.
Student nomination: "Andrew really takes pride in his students. He always goes above and beyond for us and really cares. He always makes meetings about YOU and is very comforting. He always looks at the person he is trying to help as a whole person, rather than just being a typical student. He knows there is life outside our schooling and is always supportive of that. He really impacted my time at NMC and has provided me with valuable information as I get ready to apply for jobs, prepare my resume and prepare for interviews. He has been very encouraging about the options I have and what I want to pursue."
Congratulations, Lynsey and Andrew, and thank you for your dedication to NMC and its students!