Awards and Achievements
Justin Beller Is Methodist Hospital's Employee of the Month
Published: July 1, 2022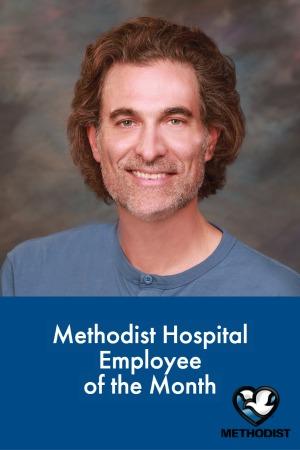 Justin Beller is a station cook in the Nutrition Services department. He embodies our core values of integrity, excellence, learning, compassion, teamwork and respect in everything he does. Justin has been a Methodist employee for over seven years.
"Justin is a huge asset to the Methodist family. His presence and caring attitude brighten the day for so many people. He treats everyone with care and compassion; provides a smiling face and a listening ear; asks about our families; and genuinely cares to know each one of us. His service and presence bring a significant positive impact on our well-being. Justin is also an amazing artist, bringing incredible creativity, talent, diversity and energy to our workforce."
Congratulations to Justin on being selected as Methodist Hospital's Employee of the Month!
---
To nominate a fellow Methodist Hospital employee for the Employee of the Month Award, submit a completed application form to Angie Anderson in Administration. Each nomination is kept on file for review for six months. The Employee of the Month nomination form can be found by searching under the "Forms" tab on mhsintranet, or click here.