Methodist Women's Hospital Nurse Jasye Morrison Honored With The DAISY Award
Published: June 16, 2022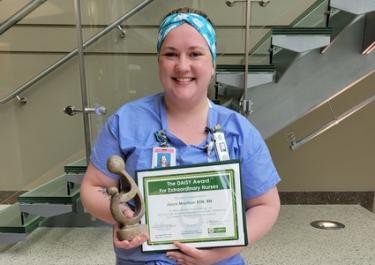 Jasye Morrison, BSN, RNC-EFM, knew something was up when she was called to the Criss Room at Methodist Women's Hospital last month. She just didn't know what.
"When I walked through the door and I saw a board room full of administrators, I instantly thought, 'I'm fired,'" the labor and delivery nurse said. "Then I came around the corner and saw my dad standing there, and the cupcakes and flowers, and I was like, 'Oh, I know what this is now. This is The DAISY Award.'"
She was right – sort of. But she assumed her mother, Denise Morrison, BSN, RNC-OB, C-EFM, was being honored.
In fact, Jasye Morrison was receiving the award after being nominated by Kristy and Nate Koris. Morrison had made a lasting impression on first-time parents as Kristy delivered son Bodie in February.
In the nomination, Kristy wrote that Morrison "definitely found her calling as a labor and delivery nurse."
Looking back, Kristy added: "Some people come to work and do their work and go home, but with her, you could tell that she genuinely enjoyed her job and wanted to help people and make sure that everyone had a good experience."
Today, Morrison has gotten over the shock of being honored with The DAISY Award. And she's using it as motivation to push ahead.
"It was just such a blessing," she said. "And a reassurance that this is where I'm meant to be and what I'm supposed to do. There are so many wonderful people that I've been able to meet and beautiful experiences I've been able to be a part of just in the last couple years. I'm just really excited for what the rest of my career holds."