Awards and Achievements
Methodist Fremont Health Nurse Denise Childress-Banks Receives The DAISY Award
Published: May 23, 2022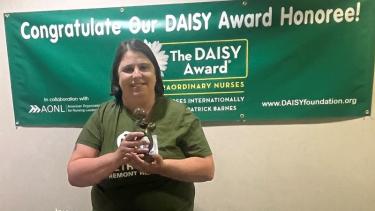 In addition to caring for a patient named Gabriella, Denise Childress-Banks, RN, paid special attention to needs of the patient's mother – also named Gabriella.
"She took care of my daughter with great compassion," Gabriella Cardenas said. "I wasn't the patient there, but she also had enough time to give to me even though I was just the mother of the patient."
Gabriella, who recently turned 20, started experiencing psychological distress following the death of her father.
Childress-Banks recalled that Gabriella's mother seemed quite distraught. Her daughter didn't have a history of mental health issues, but now they found themselves on the Methodist Fremont Health Behavioral Health Unit.
"It was heartbreaking to see her so lost," the mother said.
Childress-Banks provided reassurance to both the mother and daughter that Methodist would provide them with the resources they needed.
"It's very heartwarming to see someone do their job with love. Not for a paycheck, but to help," Gabriella Cardenas said.
Childress-Banks knew she wanted to pursue a career in health care because of the care she received from nurses during her own hospital stay as a teenager.
"They always seemed to be the ones who cared," she said. "Whether I was in pain, upset or lonely, they were the ones that provided all that care."
And what particularly stood out was the time that her nurses devoted to sitting with her and engaging in conversation.
Childress-Banks said that the patients are easily the best part of working as a behavioral health nurse at Methodist.
"You get to see them arrive in crisis and leave almost a completely different person," she said. "And you get to be a part of that. You get to meet them and hear their stories."
Childress-Banks has worked in Fremont for three years, and she has nothing but good things to say about her colleagues.
"We're like family," she said. "It's truly a close-knit group of people that care about each other, care about the patients. It's just a wonderful place to work where I have always felt like I belong."
Gabriella's mother knew that she needed to find a way to recognize Childress-Banks, so she nominated her for The DAISY Award, which honors nurses for their outstanding care.
"She guided me," Gabriella Cardenas said. "It's like the light in the darkness. She's really amazing doing what she loves to do."
Childress-Banks was shocked to even be nominated for the award.
"To be awarded this is such an honor," she said. "And to think that I even had that opportunity was amazing. My first thought is that I work with so many amazing nurses that this could have been anybody. Because everybody I work with does a wonderful job."
Read more about Childress-Banks' story in the Methodist Newsroom.