HR and Benefits
825 Spotlight: Construction/Facility Project Management
Published: May 23, 2022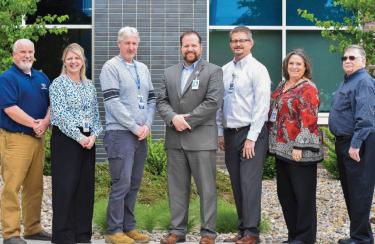 The Construction/Facility Project Management team consists of five project managers and one equipment manager. They are responsible for all elements related to capital construction projects. This includes management of design and construction, and working with IT, BioMed, Shared Services, Strategic Sourcing, Facilities, Public Safety, EVS and end users. The team works with end users, contractors and designers to create a successful project that is on time and on budget. Members are involved in programming, design, construction, move-in and more.
By working with the team of designers along with the vision from the end user, the Construction/Facility Project Management team has a great dialogue to create the best clinical spaces so staff can care for patients in a clean, safe and efficient manner.
The collaboration this team presents on a daily basis is phenomenal. Their backgrounds are very diverse, including architectural design, interiors, construction management and facilities management. With their diversity of experience, they're able to cover many facets of various projects so that implementation includes everything necessary in a new space.
The team works very well together, and it always has positive and professional attitudes when working with others in the organization.
"It is an absolute joy to watch the team work with others to create spaces for people to give and receive care, work, and learn," said Jeff Prochaska, vice president of strategic planning and business development for Methodist Health System. "The neatest thing is that the great job the construction team does today can be experienced for many years. They are an amazing team." 
Thank you to the Construction/Facility Project Management team, which includes (pictured above, from left) Morgan Hankins, project manager; Micaela Sharp, project manager; Scott Hogan, project manager; Joe Turecek, system director; Brad Swerczek, project manager; Lori Franklin, project manager; and Terry Vail, equipment coordinator.