News and Events
Help Us Fill Remaining Spots for the Upcoming Blood Drive at the 825 Building
Published: May 9, 2022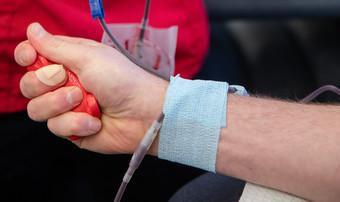 Maintaining life-giving supplies of blood is critical for our hospitals, region and nation. That's why Methodist Health System employees are encouraged to participate in a blood drive sponsored by the Nebraska Community Blood Bank (NCBB) next month.
The NCBB Mobile Bus will be on-site at the 825 Building (north side of building) on Thursday, June 2, from 7 to 11:30 a.m. 
No fasting is needed. In fact, you're encouraged to eat before donating. Each donor will receive a FREE LUNCH coupon provided by Methodist once their donation is complete.
Appointments are required, and there are roughly 20 spots still available. Please help us fill them by spreading the word! There is great need for O+, O-, B- and A+ blood.
Visit NCBB.org/searchdrives, and use sponsor code NMHS to reserve your spot. You can also call (402) 486-9414. See the attached flyer for more information, and print it out to remind your Methodist colleagues of the impact their donation can make!