Awards and Achievements
Methodist Hospital Nurse Jessica White Honored With The DAISY Award
Published: May 2, 2022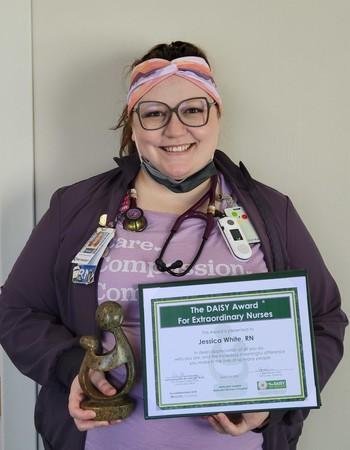 "She never lost sight of all the aspects of what was going on, and she helped my kids through it in a lot of ways, as well," Cathy Landas, a nurse at Methodist Physicians Clinic, said of Jessica White, RN, who recently received The DAISY Award. "Complete care is care of patient and care of family, and she never missed, in my opinion, doing the right thing for Gary and his care."
In December, the Landas family was prepared to take Gary off the ventilator because he'd been at Methodist for over a month with no signs of improvement. That's also when the family learned that he was an organ donor. And if the family wanted to honor his wishes, Gary would need to be kept on the ventilator for at least another 24 hours to find a match.
The family decided to keep the ventilator on and trusted White to do her job.
One of the Landas children wrote in their DAISY nomination letter about White's willingness to stay by their father's side: "She had already worked past the end of her shift the night before, but she was resilient and committed to our family and to my dad's care the entire time. It made all the difference in getting us over the finish line and enabling us to honor his choice to be a donor."
Because of her nursing background, Cathy desired to be well informed about Gary's condition and his progression. But she said she struggled at times to take a step back from being a nurse and just be his wife. That's where White stepped in to help remind her, especially during more challenging times.
"I tried to reassure her that 'I am here, and I'm watching all of this stuff,'" White said. "He needed her right now for the emotional support and to be his wife."
White knew she wanted to have a career in medicine after witnessing her grandfather struggle to receive the care that her family thought he needed. 
"I don't ever want anybody to feel helpless, and a lot of times when someone has a loved one in the hospital, that's how they feel," White said. "So I really went into nursing to help people not have to feel so helpless in certain situations, whether that be the patient or the family."
While each day on the job presents its own challenges, she feels honored to be a nurse.
"I absolutely love what I do," White said. "It's a privilege to get to take care of patients, and it's a privilege to be trusted to take care of their loved ones."