Awards and Achievements
Manny Cruz Is Methodist Hospital's Employee of the Month
Published: May 2, 2022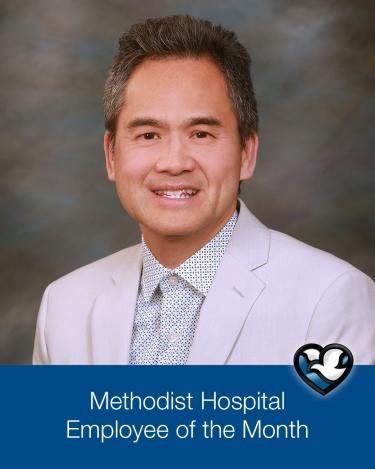 Manny Cruz is a registered nurse in the PACU at Methodist Hospital. He embodies our core values of integrity, excellence, learning, compassion, teamwork and respect in everything he does. Manny has been a Methodist employee for over 19 years.
"Manny treats every patient with compassion and understanding, just as if the patient was his own family member. He shows respect to every person he encounters. He is constantly doing selfless acts of service for his team and others. Manny is the resource in the PACU. He is a true jack-of-all-trades and does everything with a smile on his face and positive attitude. He is a real gem within Methodist Health System and deserves recognition for the exemplary care he provides all patients."
Congratulations, Manny, on being selected as Methodist Hospital's Employee of the Month for May 2022.
---
To nominate a fellow Methodist Hospital employee for the Employee of the Month Award, submit a completed application form to Angie Anderson in Administration. Each nomination is kept on file for review for six months. The Employee of the Month nomination form can be found by searching under the "Forms" tab on mhsintranet, or click here.