Leadership Updates
Leadership Update: 2022 Methodist Ad Campaign Focuses on Unforgettable 'Moments'
Published: May 2, 2022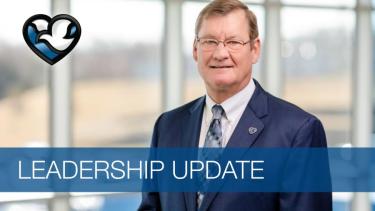 The birth of a child. The first steps after a stroke. Hearing "We got it all" after cancer treatment. Comforting a patient's loved one.
These are moments we experience every day in hospitals and clinics across Methodist Health System. You're part of our patients' happiest and saddest moments, and through it all, The Meaning of Care is always on display. The care and compassion you provide during these significant moments make a lasting impression on our patients and their families – and build and strengthen relationships that last a lifetime and transcend generations.
It's these moments that became the inspiration for our 2022 advertising campaign, "Moments," which will launch on Monday, May 9. Led by the Methodist Marketing Department, the campaign is an integrated brand campaign that strengthens and defends our position as THE provider of The Meaning of Care.
With that in mind, we had three specific campaign goals:
Illustrate the genuine, highly emotional connection that our providers have with their patients. We made it a priority to keep Methodist providers and caregivers front and center, as they're the ones who make The Meaning of Care happen every day.
Support strategic initiatives – specifically growth and perception. As Methodist employees, we know the amazing, innovative work that happens at our hospitals and clinics every day. But our communities don't always see or know that. This campaign is designed to highlight the big picture of who we are and what we do.

Stretch the brand. You can't do what you've always done and expect a different result. This campaign captures our brand in a way that's authentic to who we are, but in a new way.
This campaign features video and still photography of our providers in six "mini-stories" that highlight our strategic service lines: cardiovascular, oncology, women's services, primary/urgent care, surgery and emergency. The comprehensive effort includes television, radio, outdoor, digital, print and social media advertising.
Preview the TV commercials:
The hours of planning and work that go into producing such a campaign shouldn't go unnoticed. This campaign brings The Meaning of Care to life thanks to the leadership of Jenni Stoll, senior director of marketing; the conceptual talents of Anderson Partners; and the efforts of Torchwerks to make the initial vision come to life.
I especially want to thank the Methodist providers and employees who shared their time and talent for this effort. By using our staff and providers, our message is sincere and powerful. No one knows The Meaning of Care like you, and because of your willingness to assist in this effort, that message rings loud and clear.
I hope you're as excited as I am about this new campaign. I strongly believe it will solidify our commitment to improving the health of our communities by the way we care, educate and innovate.