Awards and Achievements
Methodist Hospital Nurse Thomas Gruis Honored With The DAISY Award
Published: April 8, 2022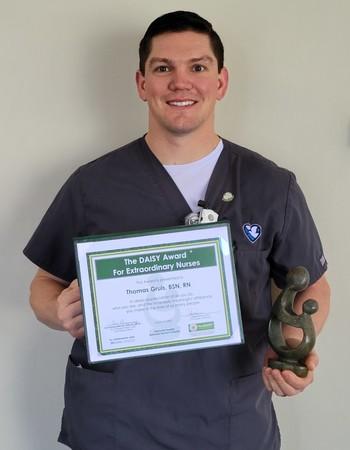 "He was the guardian angel who walked my Erica to heaven," Freida "Freddy" Haas says of Methodist Hospital nurse Thomas Gruis, BSN, RN.
Freddy was introduced to Gruis amid the most difficult of circumstances – the sudden, unexpected loss of her daughter Erica Eichhorst. But during Erica's two days at the hospital, her family formed a deep connection with Gruis.
Freddy took Erica to the Methodist Hospital Emergency Department (ED) in late January after finding her unresponsive. Erica was admitted by Gruis – who floats between the ED, Critical Care Unit, Cardiac Unit and Progressive Care Unit – but staff soon relayed the terrible news. She had a brain bleed and no brain activity.
"When they told me they couldn't do anything, Thomas looked at me, and I must have looked like I didn't believe it," Freddy said. "And he came over and he held me in his arms. He didn't have to do that, but in his heart of hearts and soul of souls, he knew I needed that hug."
As Erica's family members prepared to say goodbye, they received more news: She was an organ donor. She was moved to the Critical Care Unit, where planning began for the surgical recovery of her kidneys.
As preparations for the surgery stretched into the next day, the family only grew closer to Gruis.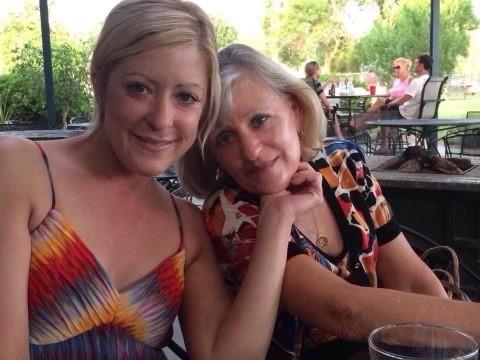 "That whole day was so excruciating," Freddy said. "But he got us through it. He even went to the cafeteria and got us food. And he would sit on the couch and talk with me. He talked about his kids. He talked about Erica. Talked about my kids. He just made it peaceful."
Erica's surgery was scheduled for that evening, hours after Gruis' shift was to end. But going home never crossed his mind. He knew he needed to remain with her family.
"After they took the breathing tube out, he looked at me as if to say, 'It's going to be OK,'" she said. "He was so understanding. He knew I was beyond. How does God make someone like that? Someone so special?"
In the days that followed, as Erica's family processed losing her, they couldn't forget the impact Gruis had made. That's when her granddaughter Brianna Eberhardt, who's also a nurse, suggested recommending him for The DAISY Award.
"I have never encountered a nurse like Thomas," Brianna wrote. "He gave his whole heart with his care. He was the angel my Nana needed, and I swear that Erica handpicked him herself to care for not only herself, but my nana, as well. … Thomas deserves so much more than a DAISY Award, but it is a good place to start."
Gruis was surprised with the award last month but quickly deflected the praise.
"Honestly, doing what I did is part of my job, and I would do it again," he said. "It's not something that I need an award for, but I was greatly appreciative of that family for thinking of doing that."
Read more in the Methodist newsroom.