Awards and Achievements
Ashley Erwin Honored With The DAISY Award
Published: April 6, 2022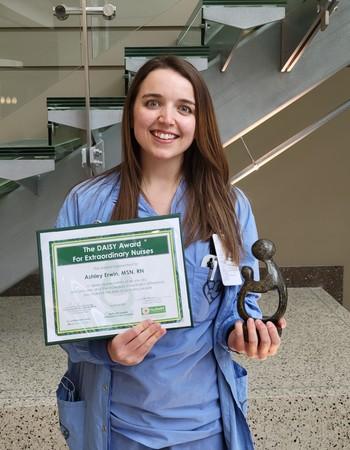 Ashley Erwin, MSN, RN, a high-risk OB nurse at Methodist Women's Hospital, has been part of the Methodist family for less than eight months, but she's already learned the importance of educating her patients through their labors and deliveries.
"Knowledge is power," she said. "I tend to overinform my patients because there's so little that we can control in labor. I think being armed with all the information possible helps them feel in control. It helps ease their fears."
That was certainly true for Kara Foster and her husband, who found themselves at Women's for the birth of their third child in January – just two years after "a very traumatic experience" with their second baby. Although that challenging birth led to a healthy baby boy, Kara was terrified of going through it all again. Her nurse, Erwin, wasn't about to let that happen.
Knowing Kara's birth history, Erwin knew she needed to be prepared for anything while providing Mom and Dad continuous updates on Baby. She knew the couple needed extra encouragement.
Kara deeply appreciated the ways Erwin kept her informed, encouraged her, listened to her and included her husband in every step of the process.
After baby Briar was born healthy, Erwin looked Kara in the eyes and asked if this was the birth experience she had in mind.
"That's when it hit me," Kara said. "This experience was transformative."
This time around, Kara felt safe and comfortable. And that was healing, she said.
Kara nominated Erwin for The DAISY Award – an honor that recognizes the extraordinary skill and compassion of nurses nationwide.
"I don't ever expect a thank-you, but when one is given, it means the world," said Erwin, who recently received the award at a celebration in her honor. "This was emotional. This was deeply personal."