Awards and Achievements
Methodist Jennie Edmundson Sports Medicine Team Honored as Iowa Sports Medicine Team of the Year
Published: Feb. 8, 2022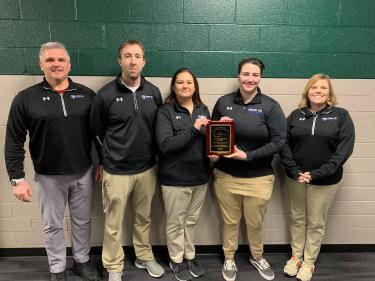 Help us congratulate the Methodist Jennie Edmundson Sports Medicine team for being honored by the Iowa High School Athletic Directors Association (IHSADA) as the 2021 Iowa Sports Medicine Team of the Year. The team received an award from the IHSADA on Feb. 3 at a St. Albert High School event.
Led by director Lisa Fidone and manager Scott Jensen, the sports medicine team is composed of five athletic trainers: Angela Brazil, Dave Byrne, Nick Finken, Melissa Troub and Allison Troutman.
The team provides daily full-time medical coverage on site at four high schools in Council Bluffs (Abraham Lincoln, Lewis Central, St. Albert and Thomas Jefferson) and at Glenwood High School. A trainer is present for treatments, injury recovery and injury prevention at all practices and home varsity and junior varsity games throughout the school year. The trainers also travel to road varsity football games during the fall for each of the aforementioned schools.
The team provides part-time coverage at six other high schools in southwest Iowa (East Mills, Fremont-Mills, Heartland Christian, Iowa School for the Deaf, Missouri Valley and Tri-Center). That coverage includes weekly visits by an athletic trainer as well as coverage for select football games at home and on the road.
Each of the athletic trainers are employed by Methodist Jennie Edmundson Hospital and have offices at the Methodist Jennie Edmundson Physical Therapy East location.