Awards and Achievements
Methodist Hospital Nurse Michelle Warner Receives The DAISY Award
Published: Feb. 7, 2022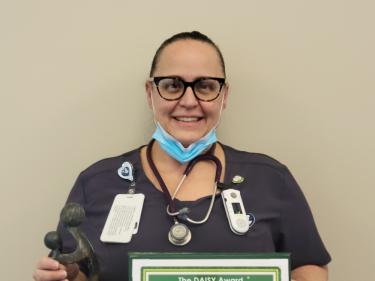 Marcia Gerard has a history of kidney stones, but the episode she had in the early hours of Nov. 7 was nearly unbearable.
When she arrived at the Methodist Hospital Emergency Department (ED) around 3 a.m., she was dehydrated and had elevated blood pressure. Then there was the "outrageous" pain.
The ED staff brought Marcia's pain under control and stabilized her condition. She was moved to the Short Stay Unit before having minimally invasive surgery to remove the stone, then returned to the unit before being discharged.
In all, Marcia was at the hospital for about 12 hours. But in that time, one nurse made an unforgettable impact on her.
When Marcia arrived in her room after leaving the ED, she was greeted by Michelle Warner, ADN, RN. The nurse wasted no time assuring her patient that she'd take great care of her – just the words she needed to hear, Marcia said.
"She was immediately communicating with me," she said. "There were no surprises. She told me each step, and she would look at me right in the eye. She was so intentional while getting me prepared for the next stage – taking me to the OR. Everything she did was clockwork."
Warner's outstanding care continued after Marcia had two kidney stones surgically removed.
"She took the time to go through the discharge process with me," Marcia said. "I thought, this is a turnaround quick-stay floor, but she didn't treat me like I was on a conveyer belt. I felt like I had the time that I needed to absorb all the information she was sharing. I said, 'Wow, Michelle. You have really made this a wonderful experience for me.'"
Before she left the hospital, Marcia decided she needed to do something more to thank Warner. She soon nominated her for The DAISY Award, which honors nurses for their extraordinary skill and compassion.
Warner was recognized with the award during a ceremony last month. Her immediate reaction was shock, she said, and the surprise hasn't worn off.
"I don't like being the center of attention, so receiving this award was a bit uncomfortable," she said. "I kept thinking that I work with so many good nurses, and this award could go to any of them. I guess I'm surprised by the response to my care. In my mind, I'm just doing what I would expect if a nurse was taking care of me. I'm honored to receive this award."