News and Events
2022 Talent Development Schedule Released. Register Now!
Published: Jan. 2, 2022
Happy New Year!
The beginning of the year is a great time to reflect on personal and professional goals, and get energized for what's to come. It's with that same spirit that we are rolling out the 2022 Methodist Health System Talent Development Program. 
Talent Development focuses on three main categories: personal, operational and leadership development for all Methodist Health System employees. These categories of development create opportunities for individuals to take ownership of their growth as well as deepen their Methodist Health System operational knowledge and understanding of the health care industry as a whole. More information on each program is below.
Visit the Talent Development intranet site page to add these events to your calendar or simply browse the available offerings.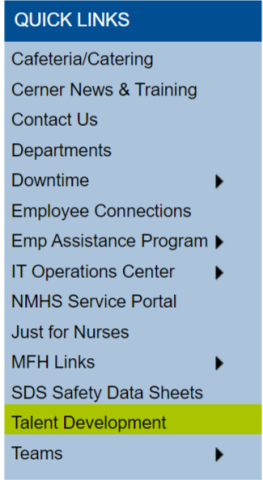 Virtual Lunch and Learn Sessions | Personal Effectiveness & Growth
Target audience: All Methodist Health System employees
Lunch and Learns are one-hour sessions held virtually each month. Our presenters from Best Care EAP have spent the past year facilitating online training exercises and will provide you with engaging and interactive learning opportunities. Topics include areas from personal and professional development, such as:
Everyday Diversity
Preventing Compassion Fatigue
How To Effectively Lead a Virtual Teams Meeting
Work/Life Synergy
Add to your calendar by visiting the Virtual Lunch and Learn tab of the Talent Development site page. 
 
Boot Camps | Management & Leadership Development 
Target audience: New managers and leaders
Boot camps are held monthly and are all-day or half-day depending on the topic. Boot camps allow managers to have an in-depth training experience on the given topic. These sessions will be offered in-person at Best Care EAP as well as virtually. If the session you're interested in fills up, please get on the wait list; we will be scheduling more boot camps based on interest level.
Please note that new managers are encouraged to attend Management Boot Camp. 
Current boot camp topics are:
Management Boot Camp
Leadership in Action
Conflict Resolution
Change Management
Register for boot camps by visiting the Boot Camps tab of the Talent Development site page.
Leadership Execution Series (LEX) | Industry Acumen & Methodist Operations 
Target audience: Managers & Emerging Professionals
The LEX is a recurring monthly session primarily intended for our first- and second-line leaders, as well as those interested in moving into leadership. This series will help round out skills and understanding beyond your area of expertise.
Each month, you have the opportunity to hear from our subject matter experts from across the organization. Our presenters are eager to explain concepts, terminology and processes, so please ask questions in these interactive sessions. 
New this year: All sessions will be held virtually, and we've expanded the list of presenters to include IT, Supply Chain and Revenue Cycle & Payments. Review the full schedule on the Talent Development intranet page under LEX.
Invites for this recurring meeting have been sent to participants. If you wish to be added to the distribution list and meeting, please reach out to mhstalentdevelopment@nmhs.org. 
On-Demand Development Library | Personal, Operational & Leadership Topics
Target audience: All Methodist Health System employees
Talent Development is pleased to offer on-demand learning, giving you an easy and organized way to work on growth and development at any hour. Access prerecorded webinars and online tools in the On-Demand Development Library tab on the Talent Development intranet page.
More Information
If you have any questions about the 2022 Talent Development offerings, please email mhstalentdevelopment@nmhs.org.