Awards and Achievements
Katie Diesing Is Methodist Women's Hospital's Employee of the Quarter
Published: Jan. 1, 2022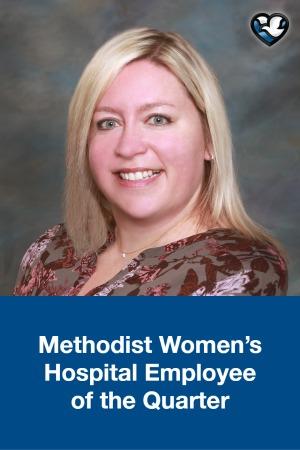 Katie Diesing, a staff development nurse on the Mother/Baby Unit, is the Methodist Women's Hospital Employee of the Quarter for the first quarter of 2022.
Katie was nominated by a colleague, who wrote:
"Katie is just amazing. She flawlessly transitions from her role as a staff development nurse to bedside nurse. She has a wealth of knowledge. Her patients get to benefit from all her knowledge, but so do all the Mother/Baby staff. She is caring both to her patients and the staff. She wants to always see the best in each individual she comes into contact with. She proves time and time again that she is a role model and a leader. She ALWAYS, and I mean ALWAYS, has a positive attitude, even if she has just worked an overnight shift, and she stays late for a meeting or to help her team. She exudes so many of our core values: excellence, integrity, compassion, teamwork, respect and patient focused! I'm so glad I get to work with her often!"
Congratulations, Katie, on being selected the Methodist Women's Hospital Employee of the Quarter!
---
The Methodist Women's Hospital Employee of the Quarter award program began in the first quarter of 2013. Award nominations may be submitted by physicians, supervisors, coworkers and staff. Judging is based on how candidates embody the mission and core values of Methodist Women's Hospital: patient focus, integrity, excellence, learning, compassion, teamwork and respect.
Employee of the Quarter award winners are automatically considered for the Caring Kind Employee of the Year award, as are Methodist Hospital's Employees of the Month.
To nominate a fellow employee for the Employee of the Quarter award, submit a completed application form to Administration. Each nomination is kept on file for review for four quarters. The "Employee of the Quarter - MWH" application form can be accessed here.