Leadership Updates
For Your Compassion and Dedication – for Fighting the Good Fight – We Thank You!
Published: Dec. 28, 2021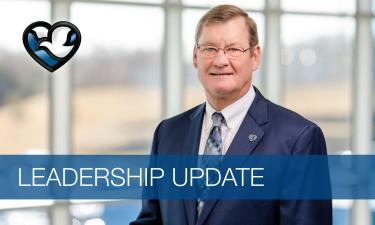 A message from Steve Goeser, president and CEO of Methodist Health System
It's that time of year when we often reflect on what has transpired the past 12 months. Those memories for us all run the gamut – joyful, heartbroken, celebratory, hopeful and thankful. 
We've endured yet another year of COVID-19, and, unfortunately, as the new Omicron variant is spreading quickly across the country and in our community, we're not seeing that proverbial light at the end of the tunnel just yet.
I continue to be amazed and humbled by the work all of you are doing. You haven't waivered despite being beyond exhausted. Your compassion for our patients and one another is remarkable. We have faced challenge after challenge. We have overcome each of them together, making us stronger in the face of adversity. 
It would be impossible to name every individual who has made a difference for the organization this year. However, I want to shine a spotlight on individuals and teams within our Finance and Human Resources departments. Since the start of the pandemic, they have been tasked with tracking all of our efforts.
Throughout the past two years, they identified opportunities, kept impeccable documentation and submitted data to the Federal Emergency Management Agency's response and recovery assistance program.
Those efforts resulted in our receipt of significant dollars. These funds will certainly be utilized in various ways, but the leadership team and I felt it was imperative that you, our employees, be rewarded for your dedication and for sticking with us.
I'm excited to share we will be extending a "thank you" bonus based upon all of the hours you worked in 2021. We appreciate you standing beside us, for going the extra mile, for lifting up one another and for continuing to fight the good fight every day.
In order to receive the bonus, you must be employed by Methodist Health System on Dec. 31 and remain actively employed when the bonus is distributed on March 1. 
The amount of the bonus will be 2% of the hours you worked multiplied by your base rate as of Dec. 31, 2021. For example, if you worked 2,200 hours and earn $20 per hour, the amount of the "thank you" bonus will be $880 (2,200 hours X $20 per hour X 2%). That amount is pre-tax, and the IRS requires such a payment to be taxed at the bonus rate along with state income tax and FICA.  
I hope you enjoyed time with family for the holidays and will celebrate responsibly this week as we say goodbye to 2021 and gladly welcome in 2022. Each of you means so much to this organization, and, again, I thank you for all that you do. Wishing you and your families a very happy new year.