Awards and Achievements
Jennie Edmundson Nurse Steffani Lemos Honored With The DAISY Award
Published: Dec. 27, 2021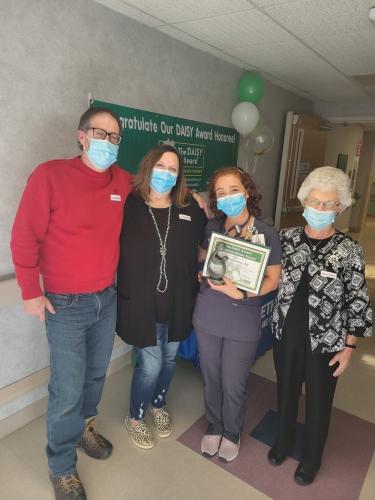 Bill Mills was no stranger to heart conditions, often receiving care at MercyOne Des Moines Medical Center over the years. But when he experienced his eighth heart attack in October – and MercyOne had no beds available – the retired teacher from Manning, Iowa, was taken to Methodist Jennie Edmundson Hospital.
"He was nervous about going somewhere else," said his daughter, Karol Dammann. "Afterward, he just kept saying, 'I was so worried, but I've had the best care ever here.'"
A key part of his care team was progressive care nurse Steffani Lemos, RN, who made an impact on him and his family just hours after he arrived.
"What really impressed me was that the day we arrived, she was working a 12-hour shift that ended up being longer," Karol said. "I don't even know how many hours she was working that day. But she assured Dad that she'd be back in the morning and would be his nurse."
Naturally, Karol wanted the best for her ailing father. But she was also watching his care through the lens of her own medical experience, which includes over 30 years of long-term care nursing. And she was pleased with what she saw.
After four days at Jennie Edmundson, Bill was discharged. Soon after, Karol nominated Lemos for The DAISY Award, which honors nurses for their extraordinary skill and compassion. In her nomination, Karol described Lemos as "kind, considerate, compassionate, empathetic and humorous."
Sadly, Bill passed away a few weeks later from heart and kidney failure. On her way to his funeral, Karol received an email with the news that Lemos would receive The DAISY Award.
"I immediately called Mom," Karol said. "'You're never going to believe this.' I was like, 'Wow. This was meant to be.'"
Last month, Karol, her mother and her brother were on hand at Jennie Edmundson as Lemos was surprised with the award.
Lemos said she'll always treasure the award because it reminds her of the difference she can make every day.
"I'm very thankful," she said. "I'll never be able to do anything other than being a nurse. It's such a humble position, and I learn from my patients. My patients change my life. I don't think I ever realized how much I could change their lives, too."