Awards and Achievements
Methodist Hospital Nurse Maggie Howe Receives The DAISY Award
Published: Dec. 14, 2021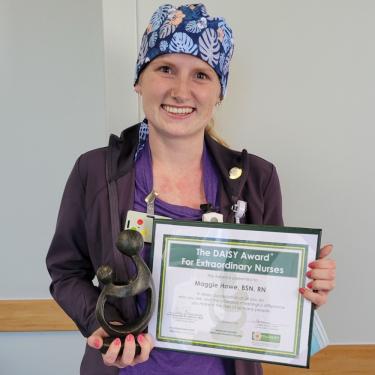 After a biking accident in October, Don Johnson found himself at Methodist Hospital as he recovered from a concussion, a dislocated AC joint in his shoulder and damage to his pelvic bone.
"I was really healthy and suddenly became very vulnerable," he said.
After receiving care in the Emergency Department, Don was moved to the Ortho/Neuro Unit. That's where he met a nurse who would make a lasting impact on him – Maggie Howe, BSN, RN.
In Howe, Don found a caregiver striking the perfect balance between meeting his medical and emotional needs. She continually asked how she could make him more comfortable. When he had trouble eating, she brought him Jell-O and ice cream. She encouraged him to walk around and build strength so he could be discharged. But she'd also pop in to say hello and chat.
"If you imagine what a nurse should be like, both technically competent but also giving that feeling of empathy and concern, she really fits that definition," Don said. "She was funny, really helpful and competent. She did it all in a very pleasant way. She stood out."
Don was so impressed with Howe that he nominated her for The DAISY Award, which recognizes nurses for outstanding care.
In his nomination he wrote: "I felt I was not just another body to take care of on her shift, but she listened to my complaints as a grumpy patient because of no sleep and my injuries. Maggie's skills were above and beyond. She is a credit to your organization. Hang on to her."
Howe was surprised with the award while at work earlier this month.
"It's just such a privilege to be honored like this," she said. "It's the hardest time to be a nurse right now. And I feel like all of us are struggling a little bit with how the world of health care is right now. It's a good reminder of what really matters in our jobs – building that relationship. It makes me remember what's important and why I got into nursing."
Read more in the Methodist newsroom.