Awards and Achievements
Hannah Matson Honored With Shine Award for Nursing Assistants
Published: Nov. 29, 2021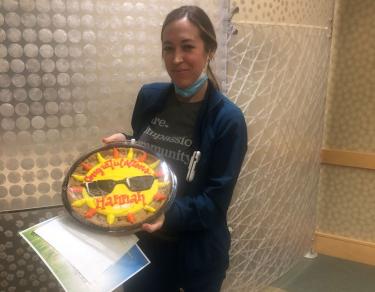 The Shine Award for Nursing Assistants honors these staff members for the special role they play in patient care at Methodist Hospital and Methodist Women's Hospital. Their Supporting Hands assist our nurses In achieving Nursing Excellence and quality patient outcomes. 
---
Shine Award Winner
Hannah Matson
Hannah Matson, a nursing assistant on the Mother/Baby Unit at Methodist Women's Hospital and Nebraska Methodist College alumna, has been honored with the Shine Award.
Her nomination read: "Hannah is one of the best CNAs I have had the pleasure to work with in my 10 years on this unit. She is fun and pleasant to be around, she gives exemplary care to patients, and she always puts patients first. Specifically, I have asked her to do something last minute AND right before shift change, and she was more than happy to do it. She is genuine and enjoys her job. Hannah is the backbone of our unit. She is in constant motion, striving to help our nurses, patients and other units to ensure safety and efficiency. Oftentimes, it feels like she reads my mind and is 10 steps ahead of me by keeping our rooms stocked, answering call lights and helping our unit to function. She is oftentimes pulled in 10 different directions during her shifts, whether it's floating to other units, answering all the call lights or being our secretary. And she does it all with no complaints and a smile on her face. We couldn't do our jobs without her."
Congratulations, Hannah, on receiving the Shine Award. We thank you for all your hard work to show patients and their families The Meaning of Care.
---
Nominations for the Shine Award can be made by patients, family members or fellow staff members. Nominate a nursing assistant by emailing SHINE@nmhs.org or filling out this nomination form.