Awards and Achievements
Katie Tellez Honored With Shine Award for Nursing Assistants
Published: Nov. 23, 2021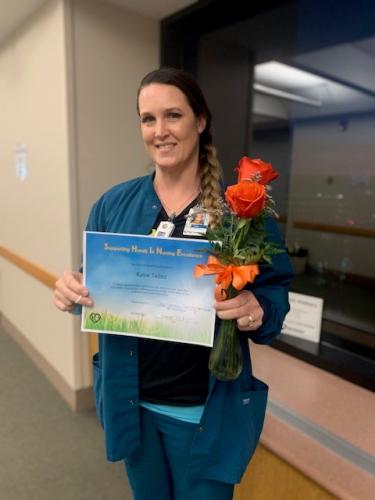 The Shine Award for Nursing Assistants honors these staff members for the special role they play in patient care at Methodist Hospital and Methodist Women's Hospital. Their Supporting Hands assist our nurses In achieving Nursing Excellence and quality patient outcomes. 
---
Shine Award Winner
Katie Tellez 
Katie Tellez, a nursing assistant on the Short Stay Unit at Methodist Hospital, has been honored with the Shine Award.
Her nomination from a coworker read: "Katie is an amazing nursing assistant. She picks up numerous shifts to help when we are short-staffed. She says she doesn't want her coworkers to have to work short because she knows how stressful that is. She then often stays late and helps longer than she signed up for out of the kindness of her heart. She is always willing to help out in whatever capacity is needed. She steps in as a transporter when that department is running behind. She answers the phone and transfers calls. She precepts new staff and teaches them the importance of safety and call light responsiveness, and she shows them what compassionate care at the bedside looks like. Even after orientation, she checks in with those she has trained to make sure everything is going OK. She is also a great support to new nurses as they are learning the ropes and clues them in to the ebb and flow of our unit and general patient care. She does so in a kind way, making everyone feel welcome and supported. Katie has high expectations of herself and of others. She encourages others to always do their best, which ultimately leads to better patient care – which is what we are all here for. She can be counted on to follow through with what she says she will do. Her consistency, hard work and self-motivation make her a very strong employee that I feel fortunate to work beside."
Congratulations, Katie, on receiving the Shine Award. We thank you for all your hard work to show patients and their families The Meaning of Care.
---
Nominations for the Shine Award can be made by patients, family members or fellow staff members. Nominate a nursing assistant by emailing SHINE@nmhs.org or filling out this nomination form.