News and Events
Join Us in Celebrating Perioperative Nurses Week Nov. 14-20
Published: Nov. 11, 2021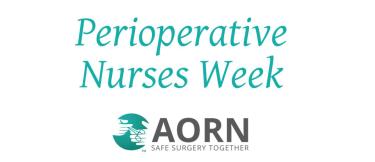 Perioperative Nurses Week is Nov. 14-20, and we're proud to celebrate our perioperative nurses who show patients The Meaning of Care before, during and after surgery.
What are the duties of a perioperative nurse? According to the Association of periOperative Registered Nurses, these skilled staff members "help plan, implement and evaluate treatment of surgical patients, interacting closely with patients, family members and other health care professionals." You may know them by other names – preop nurses, OR nurses or  PACU nurses – but however you refer to them, we see them go above and beyond daily by acting as advocates for patients and families.
To download a poster celebrating Perioperative Nurses Week, click here.
To learn more about Perioperative Nurses Week, click here.