Awards and Achievements
Methodist Women's Hospital Nurse Kassi Wright Honored With The DAISY Award
Published: Nov. 9, 2021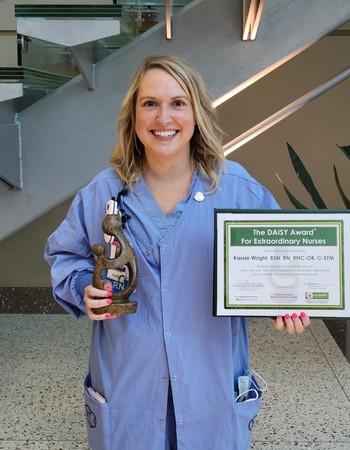 When Emily Kahm went into labor two weeks before her due date, she wasn't prepared for her trip to the hospital. Neither she nor her husband took a tour of the facility, and plans for their families coming to visit didn't align with the early surprise. In addition to it not fitting her timeline, Emily feared she would be told that she wasn't actually in labor and sent home.
Despite the initial distress, Emily's anxiety lulled at Methodist Women's Hospital, thanks to the care she received from labor and delivery nurse Kassi Wright, BSN, RN, RNC-OB, C-EFM. And for that extraordinary care, Emily nominated Wright for The DAISY Award, which honors nurses for their skill and compassion.
"There was just so much comfort; it was so much more relaxed than I think labors have any reason to be," Emily said. "I think a lot of that was that she was just quietly there. She was just there with us and waiting to see what happened."
The concept of being present is something Wright learned when she started her career.
"I was taught that it's very important to stay at the bedside with our patients and just be present with them," she said. "It gives patients a peace of mind if they know you're watching things and you're there if they have questions, versus if you're sitting out at the nurses' station and the patients don't know what you can or can't see."
While it may have been routine for the humble nurse, Emily wanted to make sure that Wright received the recognition she deserved.
"I want her to know that her work really matters and that the way she carries herself as a professional and as a person absolutely changes a patient's experience," Emily said. "And in my case, it changes the way I'm going to have a memory for the rest of my life. I'm never going to forget what it was like having my second child, and she's always going to be a part of that."