News and Events
Healing Touch Therapy Now Available to Patients at Methodist Hospital, Methodist Women's Hospital
Published: Oct. 26, 2021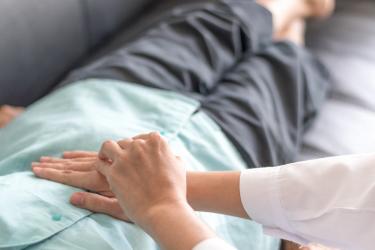 Methodist Hospital, Methodist Women's Hospital and Methodist Hospital Foundation are excited to announce a six-month pilot for Healing Touch, a gentle, nurturing, compassionate form of energy therapy that aims to complement the body's natural ability to heal.
Thanks to funding from Methodist Hospital Foundation and its donors, 10 Methodist Hospital and Methodist Women's Hospital nurses recently underwent Healing Touch training. They join six colleagues who previously learned Healing Touch techniques.
What Is Healing Touch?
During a Healing Touch treatment, hands are gently placed on and/or may hover around the body to promote balance and relaxation – and, in turn, self-healing. Sessions can range from five minutes to an hour.
The noninvasive approach complements traditional care and has been shown to affect physical, emotional, mental and spiritual health and healing, with benefits that may include:
Calming anxiety and depressive symptoms

Complementing care for neck and back problems

Creating a sense of well-being

Decreasing pain

Deepening spiritual connection

Easing acute and chronic conditions

Enhancing recovery from surgery

Providing comfort at end of life

Strengthening the immune system

Supporting cancer care
Download or view this flyer to learn more about Healing Touch.
Healing Touch at Methodist
Patients of any age can benefit from Healing Touch, and the technique can be performed with a patient in any position.
A nurse or provider may enter an order to consult a Healing Touch nurse. Healing Touch nurses are available during the following hours:
Methodist Hospital
Tuesdays, 2-6 p.m.

Wednesdays, 6-10 p.m.

Fridays, 10 a.m.-2 p.m.
Methodist Women's Hospital
For a patient resource sheet with more information about Healing Touch, click here.