Awards and Achievements
Amy Perkins Is Methodist Women's Hospital's Employee of the Quarter
Published: Oct. 1, 2021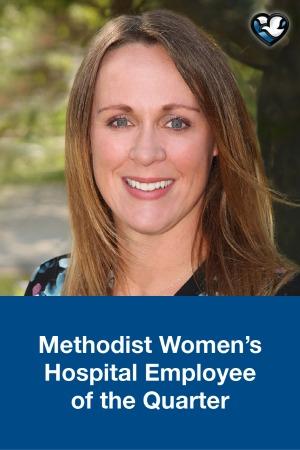 Amy Perkins, a technical supervisor for embryology in the Reproductive Endocrinology Department, is the Methodist Women's Hospital Employee of the Quarter for the fourth quarter of 2021.
Amy was nominated by several coworkers. Their recommendations included the following praise:
"Amy is the embodiment of 'best care.' ... This Superwoman manages to not only stay on top of all desk duties but also remains elbow deep in the physical work that needs to be done. ... Amy keeps the morale of her staff up by constantly showing them how much their work is appreciated. She is a sounding board for new ideas and champions for her employees to learn new skills and tasks in an ever-evolving field. She always has the patients' best interests at heart, and every decision she makes advocates for them and their hopes of growing a family. She is an asset to our department and the hospital."
"Amy is the glue that keeps our lab working seamlessly. She understands how to work with all personalities, bringing out the positive and the talents of each. She deals with patients patiently and compassionately without exception. She is exceedingly hardworking, often answering late-night alarms in addition to her regular workday. ... She is the one who will always fill in where needed. Concerning core values of Methodist Health System, Amy represents everything and more."
"Amy demonstrates outstanding integrity and compassion. She models high-level leadership qualities and promotes teamwork by working alongside staff and pointing out all the good work that is done."
Congratulations, Amy, on being selected the Methodist Women's Hospital Employee of the Quarter!
---
The Methodist Women's Hospital Employee of the Quarter award program began in the first quarter of 2013. Award nominations may be submitted by physicians, supervisors, coworkers and staff. Judging is based on how candidates embody the mission and core values of Methodist Women's Hospital: patient focus, integrity, excellence, learning, compassion, teamwork and respect.
Employee of the Quarter award winners are automatically considered for the Caring Kind Employee of the Year award, as are Methodist Hospital's Employees of the Month.
To nominate a fellow employee for the Employee of the Quarter award, submit a completed application form to Administration. Each nomination is kept on file for review for two quarters. The "Employee of the Quarter - MWH" application form can be accessed here.