Awards and Achievements
Laura Quigley, BSN, RN, Is Honored With The DAISY Award
Published: Sept. 8, 2021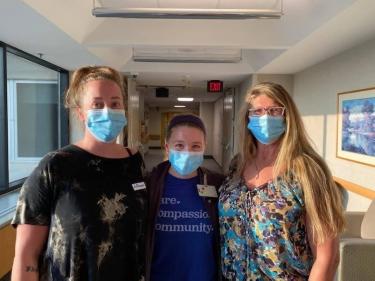 In December 2020, 88-year-old Betty Coleman was admitted to Methodist Hospital after being diagnosed with COVID-19 and pneumonia. Betty chose to forego all treatment, which devastated her daughter, April Lowe.
"I understand the visitor policy, but it was just really hard to not be there with her," April said as she became emotional. "My mother gave so much to me. I just really wanted to be there to at least hold her hand and talk to her at the end. I even asked her if she could wait until we got her home."
But Betty's health declined quickly.
Although April couldn't be there, her daughter – and Betty's granddaughter – Brittney Lowe, BSN, RN, an OB/GYN nurse at Methodist Women's Hospital, got clearance to visit her grandma in full personal protective equipment. This provided some peace to the Lowe family, knowing their loved one had little time left.
"But after about five hours, I think it was kind of wearing on Brittney," April said. "Because you don't know if they're going to hang on for another 24 hours or 24 minutes. So, Laura volunteered to stay with my mom that night. She also said I could call her any time at all. Well, I woke up at 1 a.m. I had this dream that she had already passed, so I called Laura right away. She said, 'No, she's still here. And I'm still sitting with her.'"
Quigley carried on that conversation by asking April all there was to know about Betty.
"I wanted to learn all I could," Quigley said. "I wanted to establish that connection."
While Quigley feels blessed to have never lost a loved one to COVID-19, it certainly felt like she did as she later watched Betty take her last breath.
"My coworkers offered to call April for me," Quigley said. "They understood what I was going through. But I knew I needed to call."
"She was crying and sobbing," April said. "It was hard for her to even talk. And, you know, I still struggle to this day – not being able to be there. I don't ever want to lose someone that way again – not being there. But I can't imagine where my heart would be if Laura wasn't there that night. She genuinely cared. Not just about what we were going through – but she really seemed to care about Mom, too."
In August, April and her daughter nominated Quigley for The DAISY Award – a national honor that recognizes the extraordinary care and compassion of nurses.
"I wish I could say it was something in particular," April said. "But it was everything she did. Her presence and personality were such comforts to me."
According to Quigley, it was all part of The Meaning of Care.