Awards and Achievements
Casey Cardin Is Methodist Hospital's Employee of the Month
Published: Sept. 7, 2021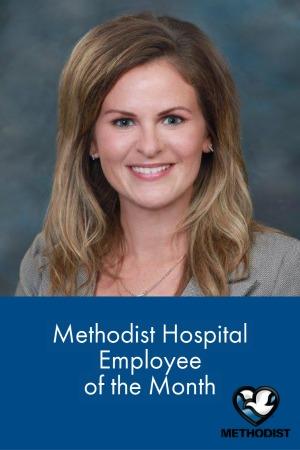 Casey Cardin is a CMS specialist in the Quality Department. She embodies our core values of integrity, excellence, learning, compassion, teamwork and respect in everything she does. Casey has been a Methodist employee for over nine years.
"Casey shows The Meaning of Care by providing support during the COVID crisis. She helped lead the PPE/Supplies group as the hospital managed complicated and ever-changing supply chain demands. Methodist continues to provide high-quality care to our patients during this unprecedented time, and it is directly tied to Casey's abilities. She has a commitment to learning and excellence, and she is considered a valuable member of her team and a resource across the organization. Casey is always a consistent, compassionate, patient and supportive team member."
Congratulations, Casey, on being selected as Methodist Hospital's Employee of the Month for September!
 
---
To nominate a fellow Methodist Hospital employee for the Employee of the Month Award, submit a completed application form to Angie Anderson in Administration. Each nomination is kept on file for review for six months. The Employee of the Month nomination form can be found by searching under the "Forms" tab on mhsintranet, or click here.