Awards and Achievements
Methodist Hospital Nurse Carli Holz Honored With The DAISY Award
Published: Aug. 30, 2021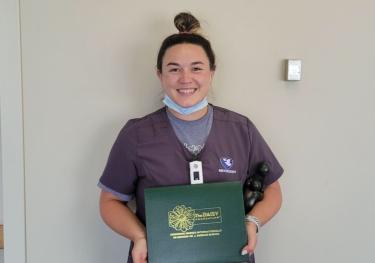 Carli Holz, BSN, RN, a nurse on the Methodist Hospital Critical Care Unit, was surprised earlier this month with The DAISY Award, which honors nurses for their extraordinary skill and compassion. Her nomination letter, read aloud to her and her coworkers, painted a bittersweet scene on the Critical Care Unit a few months earlier:
"Carli was one of the nurses for my son when he was in the ICU. Her compassion and empathy was unforgettable. The littlest of things that meant so much to me, she handled with respect and special care. She went out of her way to ask me personal questions about my son during his passing. She understood my anger and my sadness. She was there to listen to me when no one else was in the room but me and my son. She asked me what he was like, and I shared pictures. It was comforting leaving his room knowing she was the one to take care of him that day. I will never forget her kind heart and the way she made my son so comfortable while he was there. ... She calmed me in my despair, she understood my anger, she gave me the perfect amount of space when I needed it, and she came in to check on him when he needed it. She's an angel."
Holz said she immediately remembered the family and situation, but she had no idea of the difference she had made.
"It was hard for everyone involved, and obviously emotions are very high when you're losing a loved one or a child," said Holz, who has worked at the hospital for five years and joined the Critical Care Unit in January. "Trying to be as sensitive and compassionate as you can be, sometimes it's hard to feel like you're doing a good job. I was very surprised at the impact that I made in that situation."
Her supervisor wasn't, though.
"Carli is a special person and nurse," said Tim Hoarty, BSN, RN, CCRN, service leader for the Critical Care Unit. "She takes the care of patients and family very personally. She puts herself in their shoes as a true patient advocate. She never backs down from a challenge or difficult situation. She's thriving on our unit, and I really can't wait to see what she is capable of."