News and Events
What To Know About Nebraska Methodist College's New Composting Efforts
Published: Aug. 27, 2021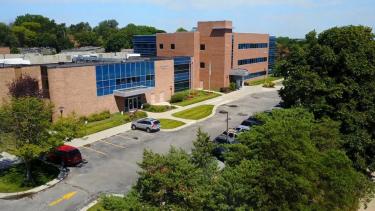 As Nebraska Methodist College begins a new school year, we are excited to announce the implementation of composting.
Composting was introduced at the Deja Brew Cafe at the Clark Campus in the summer of 2021 with a goal of diverting more of Methodist's waste from the landfill.
Composting bins can be found next to the recycling and landfill bins in common areas as well as in all restrooms. Every bin has signage indicating what can be composted, recycled or put in the landfill. You will also find a display on what can be composted on the TV in the main waiting area at the front of Methodist College.
There are two composting bins for paper towel waste in each restroom – one by the sink, and one near the door to catch paper towels people use when opening the door. The old landfill trash bins in the restrooms were transformed into the new composting bins, and the small landfill bins currently in the restrooms were repurposed from the alumni office building, meaning no new bins had to be purchased.
Hillside Solutions is helping with Methodist's composting efforts. It will pick up the compost weekly, and it will be taken to a composting facility in Ashland to be transformed into finished compost that can be picked up or donated to community gardens.
"Improving sustainability has been a passion project of mine since I started at Methodist five years ago," said Lily Keogh, administrative coordinator for Nebraska Methodist College. "Expanding Methodist's composting program to the college fosters a stronger sense of systemness and further promotes our goal of developing our students as educated citizens."
You can help Methodist divert trash from the landfill by placing your waste in the correct bins and spreading the word about these sustainable changes at the college.