Leadership Updates
A Message of Thanks From Steve Goeser, and a Gift for Your Dedication
Published: Aug. 25, 2021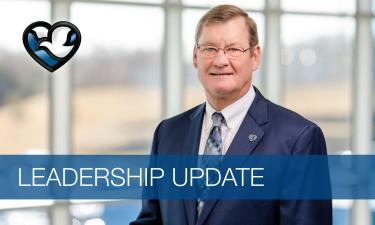 A message from Steve Goeser, president and CEO of Methodist Health System
Heroic. Dedicated. Compassionate. Innovative. Exhausted. Jubilant. Sad. Kind. Caring. Devoted.
These are just a few of the many words that have been used to describe you and your efforts throughout the COVID-19 pandemic. Yes, unfortunately, we are still in the midst of what is now an almost 18-month battle with COVID-19.
I know you are tired and frustrated. In spite of these feelings, you continue to provide outstanding care to every patient who comes through our doors.
We have been through so much together already and, unfortunately, the predictions for this pandemic's end are not encouraging. As challenging as every day can be, I hope you will continue to fight the good fight with us. We need each and every one of you to stand beside us and help defeat this virus.
I know "thank you" only goes so far. I hope you realize how grateful I and your leadership team are to all of you. In all my years as a health care leader, I have never been more proud to be part of Methodist. I hope you feel the same.
As a small token of appreciation, a monetary thank-you gift will be deposited directly to your bank account on Nov. 1. Every eligible health system employee employed on or before May 1, 2021 will receive this gift. Full-time employees will receive $750, and part-time employees will receive $350. Casual employees who have worked more than 1,000 hours in the last 12 months will receive $250.
This gift is in addition to a market-based pay adjustment, which will be effective Oct. 17 and appear on your Nov. 5 check. The amount will vary based on market surveys for each position in the health system.
In the last 17 months, we have been challenged in ways none of us could have imagined. But we have persevered. We have endured. We have delivered The Meaning of Care in unprecedented ways. I thank and appreciate all of you.